Tata Motors has stepped up campaign against the sale of spurious spare parts, under the brand name of Tata Genuine Parts (TGP).
Tata Motors
has stepped up action against manufacturers of counterfeit parts in India. The company took action against more than 200 such manufacturers across the country last fiscal and plans to take action against 500 manufacturers this fiscal, said Rajesh Bagga, senior vice-president, HR & legal, Tata Motors.
"As part of our ongoing strategy and to protect customers from the menace of counterfeit spares, we have stepped up a systematic multi-pronged campaign against the sale of spurious spare parts, under the brand name of Tata Genuine Parts (TGP). We have conducted nearly 125 raids, including 27 in Tamil Nadu alone in the last six months," he told FE.
Senior officials from IPR enforcement, copyright protection agencies and TGP and legal teams have been working closely and continuously to identify the manufacturing units and sale outlets/locations of counterfeit spares as well as packaging centres, across major cities and trade hubs of India, according to Bagga.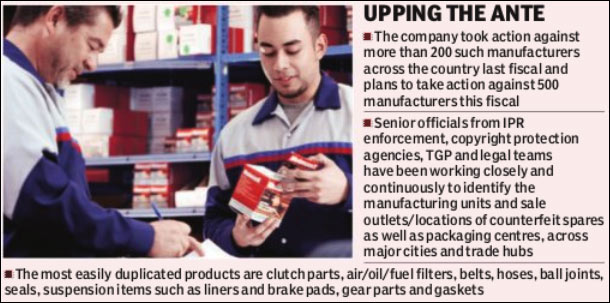 He told FE: "The aftermarket for parts and services (supply from OEMs) in India is estimated to be around R33,000 crore and parts alone account for nearly R25,000 crore. The counterfeit parts market holds another 50%, or equivalent to that of the organised parts market of around R25,000 crore in India, and it has been growing year after year."
"We supply parts worth R5,000 crore annually for both commercial vehicles and passenger cars to organised dealers in India. But another R5,000-crore worth of counterfeit parts, with logos/emblems/trademarks identical to ours, are being sold across the country by auto parts shops. This means an annual loss of another R5,000 crore in sales," Bagga pointed out.
To a specific question, Bagga said: "Its a popular belief that all buyers of Tata Motors' vehicles get serviced at the dealer point. But only 30-40% come to our dealer network after the three-year warranty period is over and the rest choose local garages/mechanics to get their vehicles serviced where spurious parts rule the roost."
CV customers are far more educated on this issue than PC customers due to the higher risk involved in their operations, he added.
According to him, most spurious parts manufacturers operate out of isolated places (well protected areas) and under different names with support from local big shots.
The most easily duplicated products are clutch parts, air/oil/fuel filters, belts, hoses, ball joints, seals, suspension items such as liners and brake pads, gear parts and gaskets. Counterfeit packaging and labels for these are manufactured and distributed to the market from isolated locations used by the spurious manufacturers, Bagga, who heads the anti-counterfeit group at SIAM and is also vice-chairman of International Chambers of Commerce, said.
He revealed that the TGP team has launched a series of pilfer-proof plastic packaging for gear and differential parts as well as lazer marking with the Tata logo among a slew of security-enriched packaging stickers and labels with the Tata Dhaal hologram on the packaging as identification aids for customers when they buy spares.
The company has also kick-started regular mechanic and retailer meets and various outreach programmes with spare parts distributors.