Earnings before interest and tax margins in the March quarter came in at 29.15%. Reuters
Tata Consultancy Services (TCS) on Thursday beat Street estimates reporting a profit of Rs 5,058 crore in the three months to June, a sequential decline of 4.5%. The countrys largest software exporter, which bagged seven large wins during the quarter, got off to a strong start turning in operating margins of 26.3% despite taking a one-time charge for depreciation, giving employees a wage hike and the appreciation in the currency. Earnings before interest and tax margins in the March quarter came in at 29.15%. Revenues at Rs 22,111 rose 2.6% sequentially while operating income increased 7.4% to Rs 5,815 crore.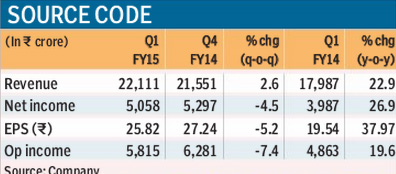 CEO and MD N Chandrasekaran was confident the current year would be better than FY14, pointing out that the company had reported the second-highest incremental dollar revenues ever in Q1FY15. We have seen good growth across geographies and all verticals except BFSI (banking, financial services and insurance) where the growth was somewhat muted, Chandrasekaran said.
The seven large deals won during the quarter were spread across verticals including retail, banking, life sciences and high tech. There are eight large deals in the pipeline, the CEO said. He observed that thus far client spends had been in line with the companys expectations and stressed that the opportunities were essentially around three initiatives governance, digital and simplification.
Pricing has been fairly stable, the firms CFO, Rajesh Gopinathan, said
During the quarter the company added a net 4,967 employees and the utilisation rate was at 85.3% (excluding trainees).
The company said industry segments led by media and information services, life sciences, retail and telecom had all done well and that non-BFSI verticals grew in excess of 5%.
TCS, which does not provide a revenue guidance, has been growing faster than its competitors Infosys and Wipro in the last two years. The company has bet on higher spending by clients in the financial services, retail and life sciences to boost its growth. On the occasion of the 10th anniversary of its becoming a listed company, TCS announced a special dividend of Rs 40 per share.
The companys attrition level rose to 12% during the last quarter from 11.3% during the March quarter, which it attributed to the aspirations of the professionals leaving the company to pursue further studies.
During Q1FY 15, the employee strength at TCS stood at 3,05,431 on a consolidated basis. While gross additions stood at 15,817, net additions stood at 4,967 employees.
The IT majors joint venture with Japanese conglomerate Mitsubishi, which is set to be operational from July 1, is expected to register much lower revenue than earlier anticipated by the company, said Chandrasekaran.