The fiscal 2013-14 has been a good fiscal for software export firms like TCS.
Tata Consultancy Services (TCS)
, Indias largest information technology firm by revenues, has given its chief executive and managing director N Chandrasekaran a 60% pay hike in FY14. His compensation, including salary, commission, and other benefits, perquisites and allowances, stood at Rs 18.68 crore, according to disclosures made in the firms 2013-14 annual report, published on its website on Tuesday.
The fiscal 2013-14 has been a good fiscal for software export firms like TCS with the strengthening dollar magnifying their income in rupee terms, and better economic conditions in regions like Europe helping business.
TCS reported a 37.7% rise in net profit to Rs 19,163.87 crore in FY14. Operating revenues also rose around 30% during the same period to Rs 81,809.36 crore.
Better business conditions and the weakening rupee also significantly added to the companys cash resources, which it has parked in instruments like fixed deposits in banks and corporate bonds and debentures.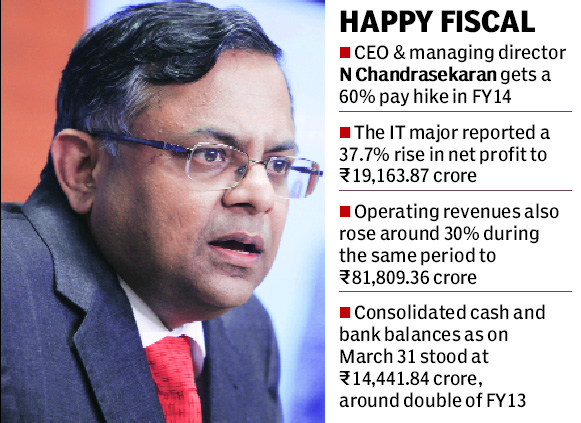 As on March 31, TCS fixed deposits with banks (having a maturity of more than three months) stood at Rs 7,067.37 crore, a more than eightfold increase over fiscal 2013. The firms consolidated cash and bank balances as on March 31 stood at Rs 14,441.84 crore, around double of the previous fiscal.
The TCS annual report indicates a shift in the company managements strategy towards development of new-age digital technologies mobility, big data, social media, cloud computing and robotics which the company said would be the future growth driver for revenue and profitability.
In his letter to the shareholders, Chandrasekaran calls this clutch of new technologies as the Digital Five Forces.
At a macro level, global IT spending continues to grow year-on-year and it is my firm belief that the Digital Five Forces is going to accelerate this trend, Chandrasekaran said. The on-going investment of your company, in these recent trends, will enable it to play an impactful role, in this technology revolution.
He said the companys retention rate at around 90% in FY14 remained the highest in the industry, globally.