Faced with huge redemptions of bonds over next four years, the government could continue its switch programme beyond 2013-14 wherein it buys short-term bonds and, in turn, sells long-term paper to market participants. The government had earlier said that, in 2013-14, it would do a switch for around Rs 50,000 crore.
They may look at buying this year also and the next year as well. So, whatever is falling due in 2014 and the year thereafter, they may buy and issue higher duration bonds, said NS Venkatesh, head of treasury, IDBI Bank. In 2014-15, R1.87 lakh crore worth of bonds are due for redemptions, data from RBI show. This increases further to nearly R2 lakh crore in 2015-16 and over R2.25 lakh crore in 2016-17.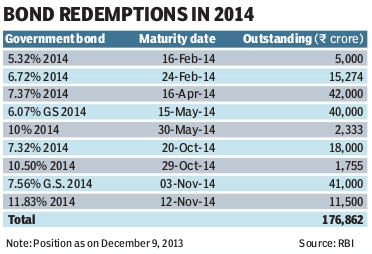 More redemption pressure can prompt the government to increase its market borrowing programme to offset the outflow. While bond traders anticipate a further increase in the government's market borrowing next year, one way to temper a sharp rise would be to address redemptions through switches. Bond traders said the government would sell bonds with a tenure of more than 10 years. Some of the bonds could be as long as of 30-year-tenure and, therefore, insurance companies would be the best target investors.
Though details of how the switch would be conducted have not been revealed by either the government or the Reserve Bank of India, there are two ways of doing it. The government can conduct the switch sale and purchase of bonds either through the auction method in which case all investors get to participate, or approach a specific section of investors directly. Some bond traders feel that since the switch would involve sale of long duration bonds, the government could gain by targeting a specific investor segment, such as insurance companies that have high appetite for such bonds.
I think they could do a one-on-one switch. They could target specific segments like insurance companies wherein the government can buy 2014 or 2015 maturing papers and supply longer-tenure papers to them, said Manish Wadhawan, head of rates, HSBC Bank. Bond traders believe the swtiches could start February onwards once all auctions under the borrowing programme are concluded. The last auction will be on February 7.