Relatives of a Chinese national aboard Malaysia Airlines Flight MH370 seen grieving, in Kuala Lumpur. PTI
China today asked Malaysia to make its officials part of a probe into the mysterious crash of a Malaysia Airlines Flight MH370 in the Indian Ocean even as Beijing decided to send a special envoy there to seek more information.
While President Xi Jinping, currently in Europe, ordered that Vice Foreign Minister Zhang Yesui will head for Kuala Lumpur soon to seek more details, Premier Li Keqiang asked Malaysia to include Chinese officials into the probe of the crash of Malaysia Airlines MH370 - carrying 239 people, 154 of whom were Chinese.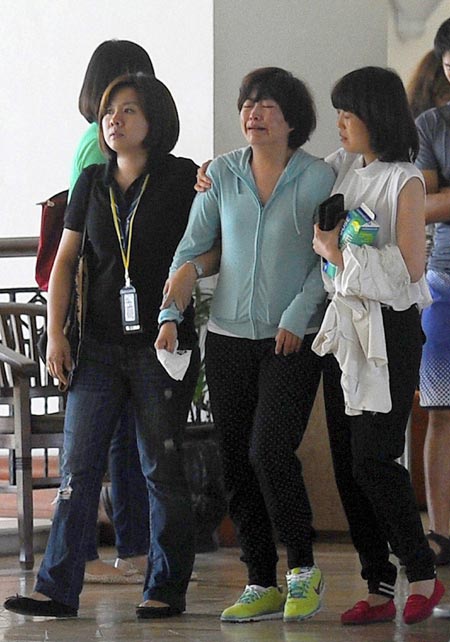 Malaysia should strictly comply with the international convention, continue to coordinate the international search, and absorb Chinese experts to join the in-depth investigation, Li said.
Chinese officials say a "flip-flop" probe by Malaysian authorities is adding more confusion to the mysterious crash of Malaysia Airlines plane.
This is the first time since the disappearance of MH370 on March 8 that China has come up with such a demand as the relatives of passengers aboard the jet refused to believe the plane crashed in the Indian Ocean.
Scores of angry relatives of the passengers staged protests near the Malaysian Embassy here over Malaysian Prime Minister Najib Razaks announcement that the plane "ended" its journey in the Indian Ocean.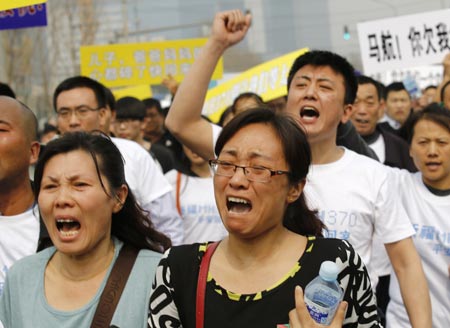 The relatives, wearing matching T-shirts, chanted: "we want the truth".
Their banners read: "Mum, Dad, without you what will I do" and "We want the truth from Malaysia".
They demand explanation for such a conclusion when not even piece of evidence of wreckage is found.
Chinese Foreign Ministry last night summoned the Malaysian Ambassador here demanding more details that led to their determination of the crash.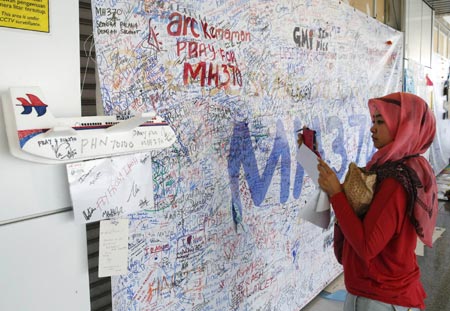 Other than British satellite firm Inmarsat and Air Accidents Investigations branch, no one was able to produce solid evidence that the Malaysia Airlines plane crashed, Wu Peixin, an aviation expert in Beijing told state-run China Daily.
"Is there any evidence they can provide to public or other nations' investigators," he asked.
Foreign Ministry spokesman Hong Lei said "we have called on the Malaysian side to provide evidence that support that conclusion".
The government has sent officials to provide legal aid to the families of passengers onboard Malaysia Airlines to deal with issues of compensation expected to come up later, Hong said.
Questions are, however, being raised why Premier Li has not visited the relatives of the passengers, unlike his predecessor Wen Jiabao.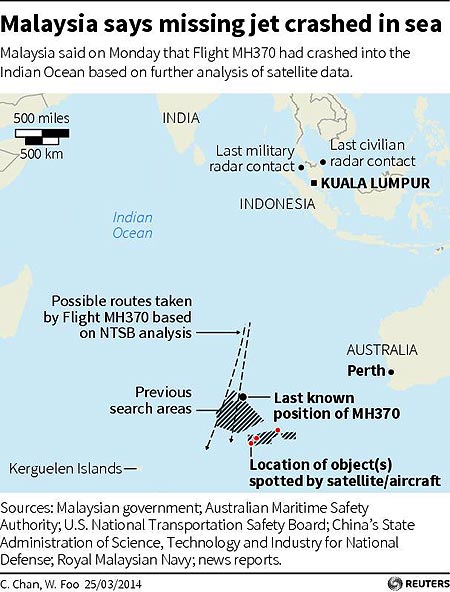 Hong said top government and ruling Communist Party officials were constantly in touch with the kin of the passengers apprising them of the steps being taken by China.
China has sent some six vessels to the area where two Chinese IL-76 aircraft are scouring the rough seas for the missing plane.
Also read: Malaysia Airlines Flight MH370