Sunny Leone's 'Ragini MMS2' in centre of storm. (Bollywood Hungamma)
Sunny Leone's 'Ragini MMS 2' sizzling performance as well as invoking of religion in film has upset many. In fact, the uproar has led for calls to deport the Bollywood star and ban 'Ragini MMS 2' by the Hindu Janjagruti Samiti (HJS) in its memorandum submitted to the Central Board of Film Certification (CBFC).
The organisation has also threatened to agitate in front of movie halls which screen the film, if it was not banned. In order to press the demand to stop the movie from being exhibited, the HJS said that is "educating" movie theatre owners, to stop the movie from being screened.
Calling Sunny Leone-starring 'Ragini MMS 2' "an assault on Bharatiya culture, dignity and Hindu deities" in its memorandum to the CFBC, the HJS said the movie begins with the chanting of the "Shree Hanuman Chalisa" which is sacred to Hindus and held the CFBC responsible for "increase in communal and social tension".
Also read: Sunny Leone's Ragini MMS2 - Short review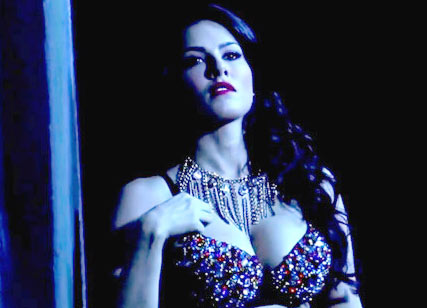 "Notorious pornstar Sunny Leone plays a lead role in the film. By making use of Shri Hanuman, a deity known to have control over his organs and whose character was ideal, religious sentiments of Hindus have been hurt to a great extent," the HJS memorandum said.
"Therefore, HJS has demanded that the movie should be immediately banned and pornstar Sunny Leone, who is leading the young generation of Bharat to carnal desires should be deported from Bharat," the memorandum said.
"Presently, morality in society has reached its nadir. Offences such as rapes, atrocities on women and molestation of women are on the increase every day. In such a situation, it is unfortunate to observe that films (are) being produced leading society towards lecherousness and immorality by deluging it with pervert and obscene films," it said.
"All roles played by Sunny Leone in films so far have crossed the limits of dignity and grace of Bharatiya culture. Hindu society is enraged due to regular incidents of granting permission for exhibition of films, which hurt religious sentiments of Hindus and promote obscenity in society," it said.
Also read: Sunny Leone's 'Ragini MMS 2' to open with Hanuman Chalisa
Also read: Live: More misery for kin over Malaysia Airlines MH370 plane, search flounders, weather set to turn for the worse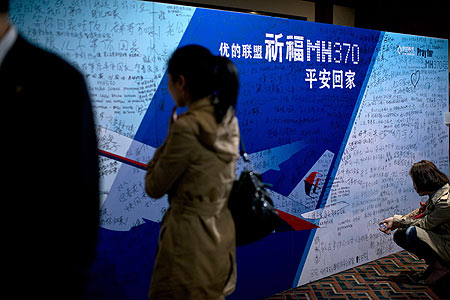 Hopes and prayers written by relatives of those onboard Malaysia Airlines MH370 jet are seen on a board at a hotel in Beijing, China. Some of the wishes read, "Dear husband, you must stay strong, I am waiting for you. My dear, please be back soon." (AP)