Sunil Gavaskar will be the interim President of BCCI only for managing affairs of IPL, says the Supreme Court.
In a major relief for the BCCI, the Supreme Court on Friday allowed Chennai Super Kings and Rajasthan Royals to play in IPL-7.
The court had previously proposed prohibiting the two teams from playing in the wake of serious allegations of betting and spot fixing, allegedly involving officials and players. The apex has also replaced BCCI chief N Srinivasan with former Indian skipper Sunil Gavaskar for acting as the chief for all IPL related matters, while the Boards vice-president Shivlal Yadav will be heading the BCCI for all other matters.
Also read: If IPL is Indian Parivar League, Srinivasans India Cements is its First Family
This arrangement, the court said, shall prevail till the court delivers its final verdict on the case pertaining to IPL corruption. The court has left it on Gavaskar to take a call on whether any employee of India Cements, of which Srinivasan is the managing director and which owns CSK, can be allowed to participate in affairs relating to BCCI.
Also read: Sponsors seek cover as Supreme Court bowls an IPL googly
The court also asked Gavaskar to get out of contractual obligations with BCCI for commentary and said he will be compensated for the job of interim president by BCCI. The court stipulated that except players and commentators, no other employee of India Cements or its subsidiary or associate companies will participate in any duties or functioning of the Board.
Meanwhile, BCCI told the court that M S Dhoni never made a statement that Gurunath Meiyappan was just a cricket enthusiast. Dhoni has been wrongly villified by media after yesterdays proceedings in which false allegations were levelled against him, the Board said in the court.
Also Read: MS Dhoni in a spot, not spotlight
The Supreme Court on Thursday had proposed to replace BCCI President N Srinivasan with former cricketer Sunil Gavaskar, and barring Chennai Super Kings (CSK) along with Rajasthan Royals (RR) from IPL 7 till it decides the case of betting and spot fixing scandal.
The seventh edition of the T20 league was proposed to be played between April 16 to June 1.
Also read: Malaysia Airlines Flight MH 370: New debris sighted but severe storms ground air search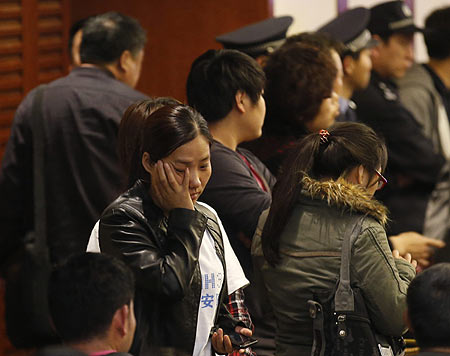 A relative of a passenger aboard Malaysia Airlines flight MH 370 reacts after hearing a briefing from Malaysian government officials at the Lido Hotel in Beijing. (Reuters)