Sunanda Pushkar had alleged that her husband Shashi Tharoor was having an 'extra-marital affair' with Pak journalist Mehr Tarar and that she would 'seek divorce'. (PTI)
TWO days into an angry Twitter war,
Sunanda Pushkar
was found dead in her room in the Leela Palace hotel in Delhi. Her death followed a series of accusations, counter accusations and clarifications, all played out in the public glare.
It all started on Wednesday when Shashi Tharoors followers on his Twitter account were made privy to messages allegedly sent by Pakistani journalist Mehr Tarar to him.
Some of them read: @mehrtarar I love you, Shashi Tharoor. And I go while in love with you, irrevocably, irreversibly, hamesha. Bleeding, but always your Mehr.
Tharoor said his account was hacked but Sunanda put the record straight, saying she had tweeted from his account making Tarars messages public. A spat between Pushkar and Tarar followed on Twitter.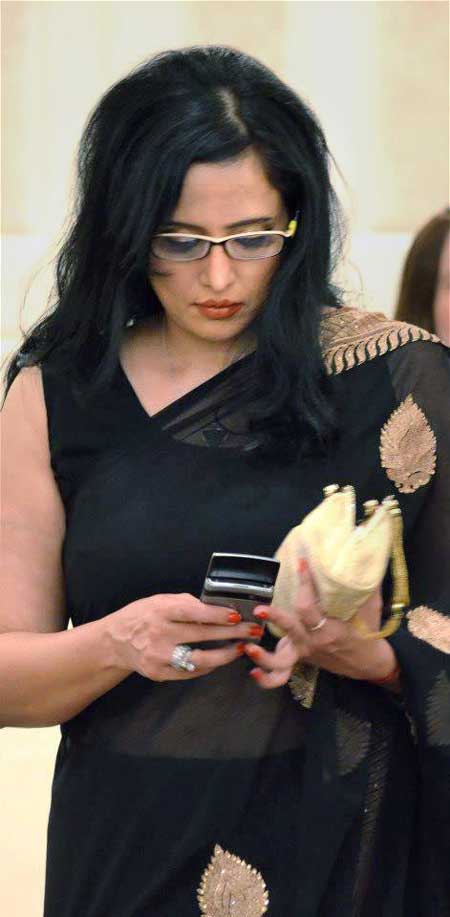 Speaking to The Indian Express, Sunanda alleged that her husband was having an extra-marital affair with a Pakistan-based journalist and that she would seek divorce.
I completely stand by my tweets, I 100 per cent stand by that, she said. That woman pursued and pursued him. Men are stupid anyways. For all you know she is a Pakistani agent. Wheres love, wheres loyalty in this world. I am so distraught.
Sunanda got married to Tharoor in a traditional ceremony in his ancestral home in Kerala in August 2010. Daughter of a retired Army colonel who hails from J&K, she moved to India after spending many years in Dubai.
She had moved to Dubai after her first marriage and also lived briefly in Canada before moving back to the Emirates in 2000 with her young son. In 2005, she joined TECOM, a government-owned body responsible for the management of Dubais business parks Dubai Media City, Dubai Internet City, Dubai Knowledge Village and the Dubai International Academic City. Her stint there, as sales manager, ended in January 2010.
Sunanda first made news in Delhis power circles when she was seen accompanying Tharoor at social gatherings. The two had first met in October 2009 and after that Sunanda was seen often at Tharoors side.
Then followed the IPL controversy after then IPL commissioner Lalit Modi revealed the ownership pattern of Kochi IPL, stating that Sunanda, a friend of Tharoor, owned free equity in Rendezvous Sports World. Modi tweeted that Tharoor had asked him not to reveal the ownership details a charge denied by the minister. Sunanda eventually had to surrender her equity stake and Tharoor had to resign as Minister of State for External Affairs. The two got married a few months later. It was the third marriage for them both.
Though rumours about trouble in their marriage had been doing the rounds over the past few months, the Twitter war brought the fissures out in the open.
On Thursday, Sunanda tweeted about returning to Delhi from Kerala and a joint statement appeared on Tharoors Facebook page: We wish to stress that we are happily married and intend to remain that way. Sunanda has been ill and hospitalised this week and is seeking to rest.
In her last two days, Pushkar had been active on Twitter, her messages conveying anger as well as helplessness. LOL I dont care about that but does a women have to berate me 2do that my husband wants 2B with her I am the last one to stop.
Another one said, @imaginingbharat @GK_INDIA33 will try got so many issues diagnosed in KIMS that now who knows when I got 2 go with joy Hastay hua jayegay.
Her last tweet on Friday was in response to someone who asked her when she and Tharoor would appear on Koffee with Karan with Mehr Tarar. She replied: LOL that would Never happen.