Proposed share swap ratio of 0.8 fair for troubled drugmaker Ranbaxy Laboratories
While the announced merger of
Sun Pharmaceuticals Industries
and
Ranbaxy Laboratories Ltd
in an all-stock $4-billion deal is seen as one that will complement Sun's product and market portfolios, it also appears to be a good deal for Ranbaxy shareholders.
Given the stark historical divergence between the financials and the stock price performance of the two Indian drugmakers, the proposed share swap ratio (0.8) through which five shares of Ranbaxy will transmit into four shares of Sun Pharma appears to be quite fair.
The Ranbaxy stock has rallied nearly 28% since March 27,2014, with its relative value to the Sun stock matching the announced swap ratio. Even if one discounts the latest price rally, the declared share transaction ratio seems to be a good deal for Ranbaxy stakeholders given its average relative value to that of Sun stood at about 0.6 times in the month ended March 27.
Ranbaxys financial performance record is inferior to Sun Pharmas. In the last five fiscals (between FY08 and FY13), the revenue and operating profit of Ranbaxy have grown at a compounded annual growth rate of 7.5%. Sun Pharma, on the other hand, has witnessed its top-line and operating income rise 27.5% and 28%, respectively.
Moreover, due to forex liabilities and certain derivative transactions weighing on its bottomline, Ranbaxy has reported losses in two of its last three fiscals. Conversely, Sun Pharmas net income has grown at a 15% CAGR between FY08 and FY13. Not surprisingly, Ranbaxy shares have lost 3% of their value over the period while the Sun Pharma stock has added 39%.
Although historical data justify why Ranbaxy shareholders will be willing to participate in the merger, Sun's record of successfully turning around stressed businesses also portrays an improvement in the future profitability of Ranbaxy.
As per Edelweiss Securities, Sun Pharma could harness Ranbaxy's existing capabilities, geographical presence and product portfolio, resulting in improved profitability for the latter. Ranbaxys Ebitda margin could touch the earlier targeted 16-18% on scale up (better RoW, India) and operational efficiencies post merger, it said in a flash note.
The combined entity, which Sun Pharma anticipates to be cash EPS (earnings per share) accretive within a year of the closure of the deal, is likely to benefit from resolution of the ongoing regulatory issues faced by Ranbaxy. All the four US FDA approved plants of Ranbaxy are currently facing import alerts.
Bank of America Merrill Lynch is of the view that Ranbaxy is at the peak of regulatory issues, which were responsible for the sub-optimal margins of 8% in 2013.
While it is difficult to ascertain the regulatory timeline, we believe there is significant scope for operational improvement and hence earnings upside, added BofAML in a research note. The foreign brokerage upgraded Sun Pharma to buy after the merger announcement citing significant synergies over the next three to four years, which may lead to 10-12% incremental EPS from the third year of the acquisition.
Also read: Why coming together of the two cos makes a potent combination
Sun Pharma buyout of Ranbaxy Laboratories will propel the combined entity to the number 1 spot in India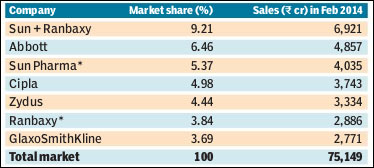 Major acquisitions by Sun Pharma