Summer planting crashed by almost 43% until Friday and seasonal monsoon rainfall witnessed as much drop from the long-period average (LPA) up to Sunday, as the new government increasingly feels the heat of an impending drought, the first since 2009. Water reservoir levels, too, dropped 17.4% as of July 3 from a year before due to the poor progress of monsoon, adding to worries of a dip in production of summer crops and consequent impact on food inflation.
Farm ministry officials say the sluggish progress of monsoon so far this year is to be blamed for the fall in sowing, apart from a delay in its arrival by six days from the ideal date of June 1 over the Kerala coast, from where it enters the mainland. Moreover, rainfall until July 3 last year was 27% higher than the LPA of 89 centimetres, which helped widen the gap between sowing in 2013-14 and this year.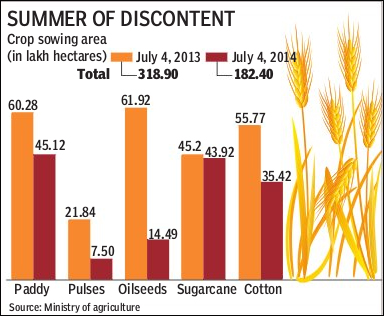 The situation this season is also increasingly becoming like that in 2009 when the country faced the worst drought in 37 years, as rainfall was 46% lower than the LPA as of July 1 that year, according to the IMD.
Private forecaster Skymet has warned of 60% chance of a drought year. Summer crops are usually sown with the arrival of monsoon rains in June and harvested from mid-September.
According to the IMD, monsoon has been patchy in central India where rains have been deficit by a huge 64% of the LPA until Sunday, while the southern peninsula saw 41% deficiency, north-western India 46% deficiency and eastern and north eastern regions 20% deficiency. Only Bihar, Jharkhand, West Bengal, Rayalaseema (Andhra Pradesh) and Tamil Nadu have received normal rainfall till now.
So far, only 15% of the country has received normal rainfall while 51% and 34% of the area have received deficit and scanty rainfall, respectively.
However, IMD officials say the monsoon would pick up pace in the next few days, which would help drive up sowing. The IMD defines rainfall between 96-104% of the LPA as normal and below 90% as scanty rainfall.
Consequently, the planting of paddy, the most water-intensive summer crop, until Friday dropped 25.1% from a year before to 45.12 lakh hectares. Area under different oilseed crops declined even more sharply by 77% until Friday from a year before. The sowing of pulses dropped 65.7%, coarse cereals 57.5% and cane 2.8%. Cotton planting tumbled by 36.5% due to wide-scale dry-spells in key producers such as Gujarat and Maharashtra.
Areas under oilseeds and pulses are important as the country imports more than half of its edible oil and one-fifth of its pulse requirements annually and any drop in the production of these commodities has the potential to stoke imported inflation.
Importantly, water storage levels across the countrywhich witnessed a drop from last year's level as of July 3 were 26% higher than the level a year before until June 12.
IMD had forecast that monsoon rains this year would be 93% of the LPA, with a 33% probability of a deficient monsoon and 70% chances of a recurrence of El-Nino, which caused the worst drought in 37 years in 2009.
Stakes are high on the monsoon as over 60% of the farmland is rain-fed.
Food inflation, which has hit an annual average of 12.16% over the last five years, touched 12.76% in the last fiscal, compared with 9.89% a year before. The Centre has recently enabled states to fix the stock-holding limit on items such as onion and potato to undertake massive anti-hoarding operations.