Monsoon rain will be 93% of benchmark average for 2014, down from IMD?s April prediction of 95%. (Reuters)
The India Meteorological Department has rained on the investor sentiment parade. Even as the mood was looking up on hopes of decisive policy action from the Narendra Modi government, the IMD on Monday said the monsoon showers this season will likely be even lower than previously forecast. It said the rainfall would be 93% of a benchmark average for 2014 with a model margin of 4%, down from its April prediction of 95%, causing analysts to apprehend low farm sector growth this fiscal and another spiral in food inflation.
What compounds the concern is a 33% chance of deficient monsoon rains, which the IMD defines as below 90% of the long period average (LPA) of 89 centimetres of showers recorded between 1951 and 2000, compared with that of 23% forecast in April. Even chances of an El Nino effect, which had caused the worst drought in 37 years in 2009, are pegged at more than 70% now against 60% in the first prediction for this year. The IMD defines normal rains at 96-104% of the LPA.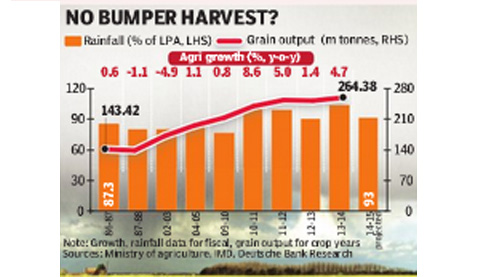 A 21.8% deficit in rainfall in 2009-10 shrank grain production by 6% and farm sector growth hit just about 0.8%. Farm-sector GDP growth stood at a healthy 4.7% last fiscal compared with 1.4% the year before.
The weather office gives 38% probability to below-normal monsoon rains and a 26% chance for a normal monsoon. Rainfall is likely to be 93% of the LPA in July and 96% during August, both with a model margin of 9 %, the Met said.
Coming on the back of a delayed arrival of monsoon over the Kerala coast by five days from the usual date of June 1, the gloomy rainfall forecast puts additional pressure on a new government that has listed tackling inflation as its top priority. The monsoon's progress will also be closely tracked by the Reserve Bank of India while reviewing monetary policy as poor rainfall may drive up the retail inflation index, in which food and beverages account for roughly 40%.
Former Commission for Agricultural Costs and Prices chairman Ashok Gulati said: It could be the first major challenge for the new government. Can it compensate farmers in states that are going to face drought Food prices for consumers could rise further. Retail inflation, the new benchmark for monetary policymaking, continued to be above 8% since February 2012 and rose to a three-month high of 8.59% in April, mainly on elevated food prices. Wholesale price inflation, too, remained sticky with the inflation for April hitting 5.20%, slower than 5.70% in March but higher than 4.68% in February.
Gulati suggested that in the short run the government can reduce import duties on all food products across the board and augment supplies. Resist the temptation of banning farm exports. In the medium to long run, the government will have to invest more in irrigation to cope with such subnormal rainfall years, Gulati added
Responding to the forecast, agriculture minister Radha Mohan Singh said the country is adequately prepared to tackle any drought-like situation as contingency plans have been prepared for 500-odd vulnerable districts and official granaries are brimming with food stocks.
The minister said the farm ministry is considering offering diesel subsidy to affected farmers for providing protective irrigation to standing crops in rainfall-deficit areas and enhancement of seed subsidy under various central schemes to partially recompense the farmer for the expenditure in resowing and/or purchasing drought-tolerant variety of seeds. The ministry is also exploring options of implementing special scheme for the rejuvenation of perennial horticulture crops under the National Horticulture Mission and recommending the rescheduling of crops loans and providing interest subvention on rescheduled loans in drought affected areas.
The minister said the government could consider additional budget allocation for fodder development programmes and higher outlay for the Rashtriya Krishi Vikas Yojana (RKVY) and National Mission on Sustainable Agriculture for drought mitigation measures. These apart, adequate farm inputs would be supplied and states have been asked to reserve 10% of funds available under RKVY for undertaking appropriate interventions to mitigate the impact of poor rainfall. Moreover, states have been asked to initiate appropriate measures, including construction of water harvesting structures under the Mahatma Gandhi National Rural Employment Guarantee Scheme and preparation of location-specific strategies.
Given the IMD's poor track record of long-period forecasts, analysts sought to wait at least until July to gauge the specific impact on farm production. In 2009, the last year affected by drought, the Met department's first forecast was 96% of LPA. The second forecast in June predicted rains at 93% of LPA, while the actual rainfall was only 79.2% of the LPA.
CARE Ratings chief economist Madan Sabnavis said: Today's forecasts indicate that the rainfall may be worse than expected before. One has to be cautious since the monsoon's geographical distribution is very important. If the forecasts come true, then Central India will be the worst hit compared with other regions.
We still need to wait nonetheless till July to get the full picture. If July is distorted, then things can get worrisome, Crisil chief economist DK Joshi said.
The last NDA government was successful in controlling WPI inflation in 2003-04 despite a drought as it offloaded huge stocks from official granaries in the open market at cheaper rates apart from importing larger volumes of pulses and edible oils. In contrast, the UPA government in 2009-10 failed to do it, driving up grain inflation by 14.49% in the last drought year.
Official granaries are already bulging with food stocks while water reservoir positions across the country, barring the southern region, is satisfactory. Against the buffer norm of 27 million tonnes of wheat and rice, the central pool had 62.23 million tonnes of the grains as of June 1.
Monsoon rains are crucial as more than 60% of the cultivable area is rain-fed and around 55% of grain production is contributed by the kharif or summer crop. The monsoon rains during the June-September period also help boost soil moisture for the winter crop.