Labour strikes at central government-owned firms almost trebled during January-September 2012 from the same period last year while it halved in state units, pointing to relatively better industrial relations at state level during times of economic gloom.
Strikes affected operations of 98 industrial units in the central sphere during the first nine months of this year compared to 35 units in the same period of last year, labour ministry data showed on Sunday.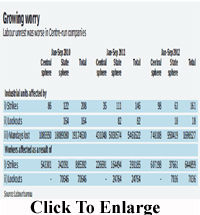 In contrast, only 63 units in state sphere was affected by strikes this year compared to 111 units last year. Also, industrial lock-outs at state enterprises fell to 18 in 2012 from 82 in 2011 and 164 in 2010.
The peculiar trend in industrial dispute data comes amid a sharp slowdown in industrial output growth of a measly 0.1% growth during the April-September period compared to 5.1% in the same period last year. While most of the private firms have deferred expansion plans, order flows in PSUs such as BHEL is shrinking with economic slowdown.
On top of the slowdown, operations were badly disrupted in central PSUs such as Air India when its staff went on strike demanding higher wages and promotions while banking sector was paralysed due to a two-day strike in August protesting banking reforms. Strikes were also seen in PSUs like Rashtriya Ispat Nigam, which is listed for disinvestment.
Many central and state enterprises were affected by nationwide strike calls by opposition parties after government raised diesel prices, capped subsidised LPG cylinder sales and allowed FDI in multi-brand retail in September. The total man-days lost due to strikes and lockouts were 1,698,527 during 2012 -- it was 748,108 in central sphere and 950,419 in states. It was much less than the cumulative 5,461,622 in 2011 and 19,174,630 in 2010.
Close to 6.5 lakh workers were affected due to strikes in first nine months of 2012 -- 6 lakh in central sphere and 37,661 in states -- compared with 3.9 lakh in 2011 and 8.9 lakh in 2010. Strikes and lock-outs not just lower industrial output but also lowers income of labourers especially those on daily-wage contract.