Indian equities surged by nearly 0.7% in volatile trade as a slew of measures outlined in the Union Budget on Monday were viewed favourably by investors. However, while the BSE Sensex was up almost 600 points in mid-day trade, it pared gains during late trade.
Reduction of fiscal deficit, a lower-than-expected net borrowing programme, reduction in surcharge on corporate tax and a disinvestment target of Rs 40,000 crore for FY12 were among the measures that buoyed the market.
The Budget has not done anything dramatically wrong, said Ridham Desai, managing director of Morgan Stanley Research, in an after-budget note to investors. The biggest positive is the move to allow foreign individuals to invest in domestic mutual funds. This opens up a new source of funding for the current account deficit as well as for Indian equities.
According to Dharmesh Mehta, MD institutional equities of Enam Securities, everyone was expecting a populist Budget, but it has turned out to be a very decent one. Added Anup Bagchi, executive director of ICICI Securities, The Budget seems to indicate that the government is more focused on the execution of several policies and also resolving the supply-led constraints in the economy.
However, some like Andrew Holland, CEO-Equities of Ambit Capital sounded more cautiously. The details of how the deficit would be trimmed needs to be seen. There is no great reason to believe at this point that investments by foreign investors in mutual funds will offset the current account deficit.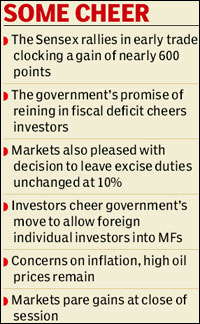 On Monday, the BSE Sensex ended the day up 122.4 points, or 0.69%, to close at 17,823, while the NSE Nifty rose 29.7 points at 5333.25. Among its peers, most benchmark indices in Asia Pacific too gained. The Hang Seng rose the most at 1.42%. Kospi, however, bucked the trend, slipping 1.23%.
Back home, 16 of the 30 Sensex components advanced. In the broader market, breadth was positive with winners outpacing losers in the ratio 1.3:1. Most of the BSE sectoral indices ended in the green, with the FMCG index rising over 4%, on the back of ITCs gain of 8.2%. Contrary to popular perception, there was no increase in excise duty. This will positively impact ITCs volume growth for FY12 by about 7% and expand margins by 20-30 basis points, said Abneesh Roy, VP research, Edelweiss Securities. He added that rural initiatives such as linking NREGS to inflation would positively impact FMCG majors.
On Monday, the NSE cash turnover was high at Rs 16,539 crore, while that in the derivatives segment was Rs 1.86 lakh crore.