Funds-starved state electricity boards (SEBs) across the country are resorting to load shedding in a massive way to deal with power shortages rather than buy electricity from the open market, which is turning more expensive. This is reflected in peak-hour electricity deficits of states with heavily indebted power distribution utilities.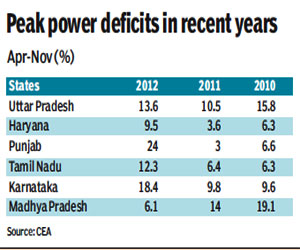 SEBs, operating under political patronage, find it easier to opt for load shedding than buy power from the open market and pass the additional cost to the consumers through tariff increases.
Peak-hour electricity shortfalls in five states Uttar Pradesh, Haryana, Punjab, Karnataka and Tamil Nadu during the April-November period were between 30% and 700% higher than the levels seen last year, according to data available with the Central Electricity Authority. These states account for three-fourths of the power sector losses, which are believed to have crossed R2 lakh crore.
Open market buys account for 10% of the total power purchases by SEBs, while the rest is sourced under loan-term power purchase agreements including from plants run by the boards themselves.
Among these states, Punjab reported the highest incidence of load shedding, with its peak hour power deficit increasing by seven times during the period. This was followed by Haryana, where the deficit nearly trebled. Tamil Nadu and Karnataka also saw a doubling of their deficits. During the same period, Uttar Pradesh saw its electricity deficit going from 10.5% to 13.6% a 30% jump.
Madhya Pradesh was the only state to report a decline in its power deficit during the period. The states deficit more than halved. But Madhya Pradeshs case is different given that its SEB does not have any loans outstanding with banks and financial institutions, though it is running into losses. The state government has been financing its power sector losses.
Because of weak demand, both volume and margins remain subdued in the power trading market. Traded power volumes grew just 6% during April-November, a far cry from the 16% growth seen in 2011-12. The share of traded power in overall generation was also lower at 9% in this period, compared with 11% in the previous year.
The weighted average price of power sold through bilateral arrangements rose just 4%, much lower than the headline inflation during the same period.
Industry experts attributed increased load shedding by SEBs to their inability to buy power, which has in turn hit trading volumes and margins in the short-term market. SEBs are resorting to load shedding as they cannot purchase enough power because of liquidity problems, said Shubhranshu Patnaik, senior director, Deloitte Touche India.
The Centre has approved a R1.9-lakh-crore debt recast package to help improve SEBs cash flow problems, but states are yet to sign up for it. December 31 was the last date for submission of proposals but the Union power ministry had to extend it till March as most states could not meet the deadline. So it might take a while before the impact of the initiative is felt on the ground.