SBI cut bulk term-deposit rates by 25 bps and retail term-deposit rates by 50 bps for certain tenures.
In a move that would reduce its cost of funds, State Bank of India (SBI) on Tuesday cut bulk term-deposit rates by 25 basis points (bps) and retail term-deposit rates by 50 bps for certain tenures with effect from Friday, July 18.
In a notification to BSE on Tuesday, SBI said it has cut bulk term-deposit rates (Rs 1 crore and above) by 25 bps for tenures 7-60 days to 6.25% and 61 days to less than one year to 6.75%. For retail term deposits (less than Rs 1 crore), the downward revision in rates only affects deposits that mature in 7-179 days, which has been revised to 7% from 7.5%. With the reduction in rates, our cost of funds will come down. Though lending is yet to gain traction, we will be able to get a better margin owing to our lower cost of funds, said A Krishna Kumar, SBI managing director and group executive (national banking).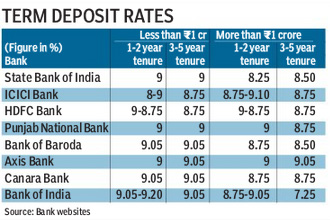 Historically, SBI's change in rates have led other banks to revise their interest rates too. At present, SBI has one of the lowest bulk fixed deposit rates for maturities of 1-2 years at 8.25%.The last bank to revise deposit rates was Allahabad Bank, which in March raised interest rates by 5 bps on domestic retail deposits for over one year and less than three years to 9.05%.
Banks in India held term deposits worth Rs 71.66 lakh crore as of June 27 this year, which was 12.75% more than the quantum of term deposits held till the same period last year. In the same period, demand deposits stood at Rs 7.85 lakh crore as on June 27.
RBI data showed that growth of deposits have been falling year-on-year for the last four fortnights and stood at 13.91% on June 13 this year.
People have started investing in real estate and gold and, thus, their savings (bank deposits) have been falling, said an executive director with a public sector bank.
Meanwhile, credit demand has also been muted for the past one year along with the growing burden of bank NPAs. According to bankers, there is a excess liquidity in the system as very little lending is happening at the moment, but they expect renewed demand for credit in the second quarter. A Banker on the condition of anonymity said almost all banks are parking their funds in excess of regulatory SLR requirements of 22.5%.
Most banks have put 3-4% in excess of SLR requirements owing to muted lending, the banker said.