Jet Airways and Air India have increased airfares for certain sectors only while SpiceJet has increased its fares by over 25% for most sectors.
Air travel during the upcoming festival season is set to cost more. Not because of the rush, but because airlines are looking to offset the recent hike in jet fuel prices and losses from discounted airfares during the lean season. Passengers will now have to shell out 15-25% more per ticket for a domestic flight on certain routes.
A one way ticket from Mumbai to Delhi is set to cost Rs 9,270 now, if booked a week in advance, Rs 6,111, if booked 21 days in advance and Rs 6,059, if booked 30 days in advance, which is a 23%, 19% and 24% increase, respectively, over August fares.
Similarly, a one way ticket from Mumbai to Bangalore, is set to cost Rs 7,011, Rs 5,893, and Rs 4,314, if booked seven days, 21 days and 30 days prior to travel, which shows an increase of 18%, 15% and 12%, respectively, over August prices.
The effect of the depreciating rupee, hike in the aviation turbine fuel prices, significant pre-bookings via promotions earlier in the year, combined with the fact that all airlines had reduced their prices during the off season, have all led to a sudden rise in the airfares at this time, Yatra.com president Sharat Dhall said. This rise in airfares will certainly be a big blow to demand in the forthcoming festive and leisure travel season, he said.
Aviation Turbine Fuel (ATF) prices were hiked by 6.9% to R75,031 per kilolitre, or per 1,000 litres, with effect from September 1. This is the fourth consecutive monthly hike in aviation turbine fuel prices, which have now gone up by over 20% since June 2013.
Jet fuel prices were increased by 6.3% to Rs 70,203.15 per kilolitre on August 1, by oil companies, due to rising crude oil prices and a sharply depreciating rupee, which had further increased import cost. The increase came on the back of a 5.8% increase in jet fuel rates on July 1 to R66,033.75 per kilolitre, from Rs 62,416.16 on June 1.
SpiceJet has increased its fares by over 25% for most sectors while Air India and Jet Airways have increased airfares for certain sectors only. But we are expecting all airlines to increase their fares for all sectors by the end of this week, Mercury Travels vice-president Ashwini Kakkar said.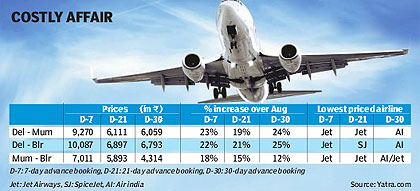 Airlines hurt by rising ATF costs and other cost related factors are looking to cash in on the peak season starting from September 15 that will usher in more corporate travelers and foreign tourists across sectors. We also expect a dramatic increase in air travel from rural areas and towns as we have had good monsoons this year, Kakkar said, adding, Passengers should be ready to pay higher for airtickets till March 15, 2014, as we dont expect the prices to come down till then.
An Air India official confirmed the state-owned airlines plan to increase the ticket prices on the back drop of the ATF price rise.
We are currently discussing air fare hikes and should come out with specifics soon, the official said.
SpiceJet didnt respond to queries on the issue, while Go Air spokesperson was not available for comment.
Meanwhile, an IndiGo official said that the airline didnt have any immediate plans to increase its fares.