The Indian aviation industry has become one of the most-watched in recent times.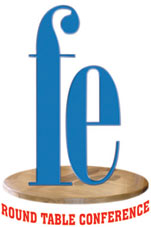 Growth in aviation is bringing its own challenges, and the future of the sector will depend on how the players tackle the rising fuel charges, taxation and a shortage of trained and efficient manpower, on and off the ground. Much will also depend on government policies. Will it allow the industry to grow unfettered Will there be more consolidation in the sector
To answer these questions, and many more, fe got together some of the top names in the aviation industry to deliberate upon the challenges and concerns. The participants in The fe Roundtable on Aviation, held in Mumbai recently, included Jeh Wadia, MD of GoAir, Kapil Arora, partner, advisory services, aviation, Ernst & Young, V Thulasidas, chairman, National Aviation Company of India, the newly formed entity after the Air India-Indian Airlines merger, Saroj Datta, executive director, Jet Airways, Rashesh Shah, chairman & CEO, Edelweiss Securities, and Kapil Kaul, CEO, Indian subcontinent & the Middle-East, Centre for Asia Pacific Aviation. Shivnath Thukral, managing editor, NDTV Profit, and Sourav Majumdar, deputy executive editor, fe, were the moderators at the roundtable. The excerpts:
Sourav Majumdar deputy executive editor, The Financial Express: Good evening. Thank you very much for being a part of the feRound Table Conference (RTC). This time we have decided to take the RTC to the next level, pun intended, by choosing aviation as a topic, not just because we all travel by air and we know what problems we face but also because it is an important issue at this point, for a variety of reasons, which we will go into as we progress with the panel discussion.
Ashok Chawla secretary, ministry of civil aviation: Lots of reasons why the aviation sector is the flavour of the season. Let me try and identify three reasons. One, the sector has seen a runaway growth in the last 2-3 years. The growth in domestic passenger traffic has been of the order of 35% or so, international traffic 16%, and the airports today are handling a total of about 100 million passengers.
Secondly, the substantial economic growth of the order of 9%- 10% is obviously leading to a growth in the aviation sector because this has to compliment economic activity.
Thirdly, air travel for all of us has become both affordable and also increasingly aspirational. Let me very broadly indicate a number of major issues of concern for the entire sector as a whole.
We all have to face high cost in terms of operations due to perhaps the cost of aviation turbine fuel, which leads to problems in terms of revenue, and profitability of the airlines at this point in time. A major area on which we need to focus on is the growth in general aviation, in terms of helicopter usage and in cargo activities. Then there are issues of infrastructure not only on the ground, but in terms of air space managementits optimum and safe use. And last but not least there are issues on the human resource front in terms of requirement of pilots, engineers, cabin crew etc, which have to move in tandem to support this exponential growth in the aviation sector.
Shivnath Thukral managing editor, NDTV Profit: Mr Thulasidas, are we in a situation where we still do not consider the status of the aviation sector in a serious manner and still treat it as a luxurious segment, as a result of which, action expected by the Government does not come by There is no sense of urgency amongst policy makers, but still are we going to lose out on the game
V Thulasidas CMD, Air-India: All kinds of people travel by air today. A lot of people who have travelled by train have now graduated to air travel. This goes to show that it has become a major infrastructure for the business of economic growth in the country. But I need to look at it from the point of view of an airline operator. We receive a lot of criticism when our flights get delayed, when there is flight disruption or when there is an increase in fuel surcharge. The fact remains that this industry in India now has been coping with rising costs that are extremely difficult to control. We are inducting new aircraft but all this has to be paid for, depreciation has to be provided for. ATF, today the single most important factor, is $2.60 cents to a US gallon. It used to be $1.15 cents four years back when I came into Air India. Now, everything has gone up, well as four years ago when I was asked what was the main issue, I said costs. Today those costs have become far more complex, far more difficult to manage.
That is the single largest challenge for us.
Majumdar: Mr Datta do you face the same situation, and, how do airlines like yours counter this huge cost escalation
Saroj Datta executive director, Jet Airways: The problems are common whether they are government-owned or private-owned. The fuel prices go up and Jet Airways is as badly affected as Air India or Go Air. But I dont fully agree with Mr Thulasidas that the establishment still does not regard air travel as a form of luxury travel.
When you look at the way the cost structure affects aviation industry, all of that results from governments decision about how to price ATF. Whether it is import parity principles or monopoly handling. I will still call it monopoly because there are three Government owned handling agents as far as fuel is concerned. There is no common user facility, there is limited competition available. How much does the aviation fuel, state level fuel tax contribute to each states revenues. If you were to look at it in absolute terms, it forms a very small proportion of their remunerables. When I say very small, it is in relative terms. It is different for Maharashtra, it is different for a small state. There is no desire on the part of the Central Government and largely the Ministry of Finance because it is an automatic revenue source.
Thukral: As a consultant to the industry, can you give some insight into how these issues can be addressed
Kapil Kaul CEO, Indian Subcontinent & The Middle East (CAPA): India operates in a cost environment. The cost has escalated almost 300% on every parameter since 2003-2004. Airline profitability is central to how aviation in this country is possible. If you look at it we have a very negative physical regime for airlines. We were addressing issues like high fuel taxation, airport usage charges being very high with holding taxes, customs and other duties. Most of the decision is outside the purview of the Ministry of Civil Aviation. I have been to the CIA National Committee and we have met with the Finance Ministry many times.
If you talk to them about giving any concession to the aviation industry they say it will affect telecom or other infrastructural issues. So we dont understand that this industry has very special needs and it needs to be addressed absolutely differently from what others have.
Thukral: Mr Chawla, as a representative of these players, are you not able to protect their interest. Why is it that all these players continue to feel aggrieved
Chawla: I have a difference of opinion on the point that the cost of operation is very high basically because fuel cost is high. The fuel cost is high not entirely because of the Government of India. Fuel prices are what they and I dont think anybody has any idea which way they are going. Now where the Government of India Foreign direct investment in the sector is not necessary today; its not on the cards
Its a marathon, not a sprint
Comes in or the state governments come in, is the issue of taxation or the levies that are imposed. We have made persistent pleads to the finance indus-try that aviation fuel should be noti-fied and declared good, which will re-duce the incidents of state level taxation because maximum burden and incidents come from various state governments where it ranges from about 24% to 33%.
The Centre has problems on howmuch it should impose its will or its directives on the state governments who need to have some resources and some velocities in whatever they generate.
Thukral: Jeh Wadia you have seen the startup side the business. Are you worried today that many startups will continue to remain as startups if some-thing is not done right now
Jeh Wadia MD, Go Air: Aviation is a marathon to us, it is not a sprint. In-dustries in India do take time to turn-around. Not businesses but industries. Ultimately as a summary the market is growing at 40%, historically the market never grew more 46% prior to 2003. There are issues on cost. Those costs are relatively linked to infra-structure, taxes, and policies. Infra-structure is improving but obviously not improving as fast as the amount of aircraft, which are coming in. But eventually the aircraft induction plans for each airline will slow down, and infrastructure will be able to catch up, thereby reducing the inefficient cost that we have.
The second point being policies; in the form of outsourcing of engineer-ing or security or ground handling. Once they change and we are allowed to outsource, it will bring down the cost. As far as taxes are concerned, it is unbelievable that we have to pay, atleast in Go Air we pay approximately 27% sales tax on top of the barrel. It is not even fix. As the barrel goes up, we pay more. We pay 27%. So ulti-mately even today if the barrel was at $100 wed be smiling. Because it is cheaper than what we are going to pay today. Today we are paying27% on whatever the barrel is, at least fix it. We all understand that every-thing virtually has moved from sales tax to VAT or declared goods. The question is why hasnt ATF. Inciden-tally, for ATF, per kilo litre in India, we pay virtually double than any other country in the world.
Majumdar: How does the market now perceive these imperatives for airline companies from the point of view of valuations
Rashesh Shah chairman & CEO, Edelweiss: In the last couple of years the industry has been making operat-ing losses and all mainly because of all the cost structures and ATFs and everything else. Due to the huge frag-mentation of the industry, we have started seeing some consolidation in the last year. There are quite a few people who believed that if 60-70% is controlled by 3 or 4 companies, then the huge under cutting and the under pricing that was going on would slow down, and it could offset some of the profitability issues from the market point of view.
The market ultimately sees this as an infrastructure related industry which will grow as Indias growth hap-pens. At the same time there are 2 key issues. One is capitalisation and the in-dustry is going to bleed may be for some more time because of cost is-sues and may be because of other is-sues, where is the capital going to come from
The industry is still fairly un-capitalised if you extrapolate for the next couple of years. Capitalisation will lead to valuation. The market does believe that there will be 3 or 4 key scale players. There will be scale players and niche players in the market, which will allow every-body to co-exist.
Majumdar: Mr Arora, as a consultant, would you see the same concerns in terms of profitability
Kapil Arora partner, advisory serv-ices aviation sector, Ernst & Young: There will be a lag and as airlines add capacity in the next few years, you will see it will get worse before it gets better, because you are seeing a unique situation in the Indian aviation space, where there is growth that will happen with new players coming in, and at the same time there will be some level of consolidation as people find that it may not be a viable busi-ness for them to be in, and some of the larger players trying kind of acquire some of the smaller players.
The other thing about profitability is when you start looking at things like valuation. Its about how quickly companies can operationalise theirstrategies. So in the long term, it will be the ability of those companies that managed their operations in a fo-cussed manner and for the longer term vision that will surely differenti-ate themselves. In the short term I think the bleeding is going to con-tinue and those with deep pockets and those who have the stomach for it will really be the ones who survive. Other players are going to fall by the wayside.
Thukral: Why is the aviation policy not in sync with the times
Chawla: I think it is nobodys case that the policy is written in stone. I dont think that the regime of five years ago will be valid in days to come. It is going to be addressed, but what shape and what contours it will take, is not possible for me to predict at this stage. I think we will need some kind of new formulations in the next 2-3 months.
Thukral: Mr Datta, how do you react to that
Datta: Let us honestly understand that if the industry is bleeding today,it is bleeding despite having been given total freedom by the govern-ment and how it functions. It is in the domestic segment, so why do we bring in international operations all the time The fact of the matter is that by and large, anyone who has the cap-ital, the resources, the technical capa-bilitieshas been given permission by the government to start domestic op-erations. We have all gone into it with open eyes and an open mind, with ideas of what we want to do and we are still in a situation, and I dont blame it entirely on the fact that the fuel prices are $100 or tax is 25% or it is 70% higher than what it is else-where in the world market. It is all the policies, the way we have gone around running the industry, which has led us to this position.
Thukral: But is it not true that you make more money on international routes
Datta: Absolutely not. Yes, the cost per unit are lower because the fuel prices are lower because the sectors are longer and therefore a bigger air-craft, therefore your unit cost goes down. Simultaneouslym the revenue per passenger, the yield per passenger is much lower.
Thukral: Mr Thulasidas, the biggest problems that you faced off late is that you just did not have an updated fleet. Now that you have ordered a new fleet, what is your reaction
Thulasidas: We dont want to com-mit the same mistakes of the past. In-ternational operations need not nec-essarily make more money than domestic ones. In fact they make less money on most routes, barring odd routes like the Gulf or Hong Kong. You will loose money and Bombay-London, as Jeh said, is a very good example of how you can loose money by putting too much capacity on that one route. And you perhaps re-member that BMI, the UK carrier that used to fly to Mumbai, stopped flying because I think they were making huge losses. We are prepared to accept competition. We know that whether an airline flies abroad or not, today every one of them is going to fly abroad, they are all flying in the do-mestic market today. Competition is something we have to live with. Weshould be ready by say about 2009with a very good fleet.
'Who's afraid of foreign capital '
Thukral: Mr Rashesh, is consolidation the need of the hour
Shah: I think you go through this sprouting of thousands of market players who come about. Only a few of them survive. I think consolidation is equired in any industry. I think now if you look at Kingfisher, Air Deccan, as well as Sahara Jet and Indian Air-lines, if you combine that by our esti-mates, about 60-65% of the market share is in 3 hands which is a good enough consolidation stage. The in-dustry is still in that state of hyper growth flux and a lot of investors are putting their faith in the market growth.
Majumdar: Do you think the govern-ment should do a clear rethink on new forms of capital
Chawla: The answer is not neces-sarily foreign direct investments or foreign capital. I dont think the coun-try today is short of capital, if thats what is required for the stable growth of the industry. I think our view is that the aviation industry must first be able to strengthen itself, before we can look at the possibility of opening up for foreign direct investments. That is not necessary today, not desirable, and not on the cards.
Thukral: What is the fear of foreign capital Do Indian players fear that they will be acquired by foreign companies
Datta: No. I dont think anyone is afraid of foreign capital per se. The basic problem is that for anyone to be interested in investing in an industry, the industry has to produce results. Lets remember there are a lot of for-eign equity players, people who want to take out the money in 2-3 years and I dont think the industry is in a position to ensure that.
Majumdar: What are the concerns on infrastructure and safety issues
Kapil: Physically from 1998 I dont think there have been investments in infrastructure. We have not invested in building our runway capacity, nei-ther have been managing our air space effectively. We have not invested in our controllers capability. If I have to really single out one of the biggest attributes to this government, it will be to really single out airport infra-structure as a key area, and I think there is a plan in the offering. It might have execution issues. But going for-ward from next year, when Delhi would have a parallel runway and Bangalore, Hyderabad open up, I think lot of these issues will be ex-tremely vital.
My number 1 concern is that we still need to look at how we can effectively solve the problem of air traffic con-trollers, which is acutely under-staffed. And my assessment is that you would require 1,000 to 1,200 ATCs and that is not going to come to the system in 2-3 years. Secondly, I would think that post 2010 my as-sessment is almost 140-150 million airport capacities built across our air-ports. But the dream will actually be- gin in 2010 and you need a plan from 2010-2020.
Thukral: Mr Chawla do we have a long term vision here
Ashok:
There has been a paradigm shift in the sense that by next year Bangalore, Hyderabad will become operational. Cochin was already a pri-vate airport. The 5 main airports, which are going to account for about 65-70% of the traffic in the country, are going to be managed and substan-tially held by the private sector. The second part is that we are developing and continue to develop a whole lot of what I call non-metro airports or re-gional airports. Third is we are up-grading or updating the policy on pri-vate greenfield airports to make it more investor friendly to bring in specifics. There are about 127 airports in the country, of which about 85 are operational. Regarding the balance 40, we are pursuing on how to de-velop those, whether in coordination with the state governments and pri-vate enterprise.
So there are various windows,which are being worked out and which will be available and we need to prepare for this quantum jump from 100 million to 450-500 million the next 12-13 years. The government and the Airports Authority of India were caught somewhat by surprise by the sudden growth. We are able to ex-trapolate and find that we need to move very fast.
Thukral: Mr Chawla how many loop-holes do you think exist if there is a regime change How many contr-oversial issues are you addressing Do you fear that there are loopholes, which will run into political troubles as we go along and as a result of which the long-term vision will become a short-term vision
Chawla: I have no difference of opinion on the fact that we need to build our infrastructure and we need to build it fast and we need to move forward so that aviation and allied ac-tivities can move forward. There is re-ally nothing very controversial, which is happening in terms of airport devel-opment, which is going to do a turn-around once there is a change in the political regime.
Thukral: Mr Arora, something Mr Datta, Mr Wadia, as well as Mr Thulasi-das are facing today, is how much do you pay the pilots There is a huge shortage of human resource. Are we going to bite more than we can chew in the long run Are we going to as a result import substandard pilots into the country
Datta: Shivnath I have got to object to your statement on importing of sub-standard pilots. This country does not import substandard pilots. The pilots that are imported are fully qualified and fully cleared by DGCA.
Thukral: Mr Datta, yet there have beenreports of how there has been some sending back of pilots because they could not understand the ATC lan-guage. Isnt that correct
Kaul: The communication between ATC and the pilot is a problem, which is globally felt because expertise is flowing from one market to the other. You have the Eastern European guideline and in China the Chineseguideline. Mr Datta would correct me if I am wrong, but I know to best of my knowledge that standardi-sation of communication between the ATC is being worked out and I think it is not a policy, which is only impacting India.
Arora: The challenge really is whenyou talk about 300 odd planes. Today the industry norm is about nine pilots for each plane you have. So you have about 2,700 or 2,800 pilots. I think In-dia graduates, and correct me if I am wrong, about 100 pilots every year through about 17-20 schools. So if we look at the next 5 years and the plan capacity expansion, you have clearly got a shortage that you have to be able to address. One way to address that shortage is domestically, by actu-ally adding more flight schools without compromising on the quality, without lowering the bar as far as the competence and capabilities of individuals. The other, a global eco-nomic phenomena, is to bring skill sets in, and address that shortage to more of a temporary band aid, where you bring people in whether it is through Eastern Europe or through the US or the Far East. So you actually have to look at the combination ap-proach in the short-term, such that you have competent pilots to be able to fly the aircraft that you have, so that the planes are up in the air and not on the ground.
The longer term challenge really is to create an enabling environment where you have more schools and more people signing up to be pilots. It takes about 2 years for somebody to obtain a commercial pilots license, having been through about 200-300 hours of actual flying. So I think we have to be mindful of the fact that you cannot relax those guidelines simply because you have a supply constraint. Safety is paramount. While over the last hour we have been debating all the infrastructural challenges and other is-sues that we have been experiencing in the industry, I think it is imperative to recognise that this is a zero toler-ant situation. You cannot have any compromise with passenger safety, with security or with competence of the pilots. We entrust our lives to these people, so it is important to recognise that and bear the pain over the next 3-5 years, while supply catches up with the demand.
Kaul: We were talking about the long-term strategic plan, when we really dont know how many figures we do on assessment. Not in terms of what the government clears inprincipal right now, but over a period of the next 15-20 years. We do an as-sessment to say that by 2020 this is the size the business is going to be and lets go backwards and save that one year. Unfortunately there is no strict as-sessment done. Every airline today, especially people who are flying long haul machines, would know what it means actually to get a pilot especially for 777s. The second thing is that you must understand what is happening in the Middle East. So unless and until we really think of what we are going to do from a long-term perspective and from in-frastructure, and we address these issues, then I dont think we will continue to have this problem.
Arora: It goes little beyond com-pensation for the pilots and whether he should import or not. I think the in-dustry certainly is mindful of this. In fact Ernst & Young is partnering with the CII to come up with the report, which will make recommendations to the government on the human re-source challenge and I think we are try-ing to address two broad issues there. One is the actual shortage, which is the headcount shortage both in terms of technical crew, which is the pilots, the ATCs, and the engineers, and also the support staff on the ground. The larger issue is how do you actually look at set-ting the right standards from a capa-bility or a competence standpoint. I think overall if you look at the India growth story, there is a going to be a war for talent and you have to be able to compete, and one of the challenges you are going to experience as a player, is how do you compensate the pilots and create a reward structure for them, such that there isnt an outward flight, as Kapil has mentioned, out in the Middle East.
Thukral: Mr Datta, after ATF is that your biggest worry Do you have an assessment of how many pilots you need, looking at the present growth rate over the next 5 years, and if so, how will you make sure that the de-mand- supply gap is met
There will be a shakeout in 18 months
Datta: No. First of course we know how many aircrafts we are going to im-port and add o our fleet, what our busi-ness plans are till 2011, 2012. At this point we have orders beyond that as well, but that is to replace aircrafts that we have at the moment. Therefore, we have a clear idea of how many pilots we need, what type of pilots, and how they graduate from smaller jets to wide bod-ied aircrafts, and so on. How are we go-ing to provide for those pilots We recog-nise that it is going to be almost impossible to survive on Indian pilots only. Economically it will be very diffi-cult to continue to sustain the expansion. Engineers as well are a bigger problem in terms of certain categories, particu-larly avionics engineers among others. There is a huge shortage of experienced, not technically qualified, but experi-enced engineers and that is something we will continue.
Majumdar: Jeh mentioned that we are looking at preparing for 2012 and be-yond. What is everyones assessment of the political environment and how will that play out, since much of it is still policy in the making
Datta: Political stability is crucial to the growth of any sector. Thulasidas: I will say that as far as pi-lot shortage is concerned, I take a view that is slightly different. There is a tem-porary shortage of pilots, but I believe in the next 2-3 years this country is go-ing to produce a very large number of pilots and we should not have the kind of shortage we face today, because this gives tremendous opportunity to the In-dian youth to get trained as pilots and companies will need to differentiate themselves in terms of how they serv-ice their customers, how much better they manage their operations, how they use technology both for customer rela-tionship management as well as in-house operations. Only those companies will ultimately survive and prosper, that tend to do this better, than some of the ones that tend to have a short-term vi-sion.
Thukral: Mr Datta, closing comments from your side and if you could also touch on whether you subscribe to the view that cut prices let more people fly and everybody is happy after that.
Datta: Thats crucial, but that is cer-tainly not going to be the rule of the day. It is not the way this industry will survive. So long as the pricing contin-ues to be below cost, the industry is not going to survive. Today, the operating cost of a low fare carrier; and they are not low cost carriers, is about 25-30% lower than the full service carrier. And if the pricing today is going to be 55-60% lower, the industry cant survive. There has to be an economic rationale in the industrys growth and when the econ-omy is growing and when larger seg-ments of the population, as Mr Chawla said, find it affordable to travel, find their aspirations being fulfilled, when they have larger incomes, why must lower prices below cost be the only rea-son for growth in the market
Arora: I think you are right when you say that a large part of those costs are consistent or common for all players, re-gardless of where they fit into the value chain. But I think over time, companies get very decent jobs. As far as the growth of aviation is concerned, as long as the Indian econ-omy continues to perform as well as it has done in the last 3-4 years, I see no issue at all in growth. We will continue to grow on an average 15% interna-tional and domestic combined.
Wadia: Firstly, on pilots I agree it is a short-term phenomenon. You cannot expect so many pilots to be introduced overnight. Over 2 years you will see large investments in flight training, ground training, and ultimately in terms of catching up with the demand.
Thukral: Rashesh Shah I am sure you will probably advice many more airlines, as we go along, in consolidation, trying to raise capital, Your closing comments, if you were to be given, in an ideal portfolio, how much percentage would you allo-cate to aviation
Shah: At the moment the market cap of the aviation industry is about $3 mil-lion or so, which is relatively low given the kind of importance with NGOs in the economy. But I think more than making an allocation state for aviation, because this is an industry, which, over the next 18 months I think there is going to be some more bleeding, which will happen. I think the headwinds are there, not only in terms of cost but also global oil price and all that. So the idea is for investors to look at it from a company-to-company point of view.
Arora: I think you have to take a long-term view here. In the short-term I think there is a need to band aid some of the issues that we are experiencing in terms of profitability or infrastructure. Over the long term I think aviation will clearly be central to Indias growth story. I think that have better processes, better con-trols, and are more focussed to being more responsive towards the customer, really are the ones that are going to win.
Kaul: I believe that among the low cost airlines, among the global names we will talk about like AirAsia, EasyJet, Ryan Air, the next big name will be from India. As far as the full service is con-cerned, you would see all the 3 consol-idated companies looking at hedging the risks, putting 50% of the network on international, 50% on domestic. But in future, I think aviation would continue to mean growth. Post 2010 it would mean big profitability for some of them and I think the sector eventually would start integrating to our economy more efficiently than what it is today.
Wadia: We have taken a view to be conservative till 2009-2010. Thereafter we will start growing very aggressively. Until then you have to be patient. LCCs have essentially made flying a neces-sity today. We transport about 7,500 consumers a day, out of which 30% of them are first time fliers. So the question is can we take our fares up We internally need to decide how much we want to lobby with the government to reduce our cost to improve our margins. Alterna-tively how much do we want to pass on to the consumer if those costs come down If you take an international cost of LCC, we are actually profitable at the ares that we are selling today, but un-fortunately there are nefficiencies as in tax or in other areas, which inflate our cost structure as an Indian airline oper-ator. Once those costs start reducing we will not only be profitable but we will be very profitable.
Thukral: Jeh, just to make you counter Mr Dattas point, all things being equal, are you pricing it below cost or above cost
Wadia: On some routes you make 10% margins, on some routes you make 30% margins and on some routes you make no margins. It is the question of basically having a basket of products, which are different markets, and un-derstanding which one are you a leader in and which ones are you a follower. We are cash positive and we hope to basi- cally turn P&L profitability by next year. So we are looking at not increasing our fares because we dont necessarily want to slow the growth of the market. But if the government carries on in the way it is, then the industry has no issue. We hope over the next 2-3 years that these costs will reduce, thereby, in terms of giv-ing us the margins we require. Ulti-mately we dont want the consumer to pay for the inefficiency.
Thulasidas: I know that the growth of aviation is bound to continue in In-dia because the economy is doing well and air transportation is crucial to the growth of the economy. As far as Air In-dia is concerned, with the fleet renewal that we are undertaking, the merger of Air India and Indian Airlines, our plans to join global alliance in a couple of months, and the two brand approach that we have of a full service and low cost in the same family, we are bound to do well, despite the hiccups. We have been running a very successful low cost air-line, Air India Express over the last 2-2years now. Even last year we were able to make a small profit on that. I believe what is going to happen is that the low cost, which is actually a low fare air-line, is going to create greater growth in the market. Gradually, the low fare air-lines are going to adopt more and more features of the full service carrier, and the full service carriers will not survive unless they are able to incorporate better models of cost management, learning lesions from the low cost.
Chawla: As far as the government is concerned, our road map is that we will put in place the enabling policy framework on health sectors. We are pushing for competition in every area of activity. It already exists on airline operators. In terms of airports and other facil-ities, cargo handling, etc, it will be brought in. We will put in place an eco-nomic regulatory authority, which will ensure that there is effective compe-tition and that the consumer doesnt suffer in the bargain. After that, once the policy architecture is replaced, it is for airline operators to prove their mettle. Our assessment is that this in-dustry, which has suddenly seen a very exponential growth, will after some time, find it appropriate and prudent to consolidate. The more se-rious players will remain, others will fall by the way side.
Wadia: Strategies make a big dif-ference to the performance of the company. Our strategy in Go Air has essentially yielded us the highest load factors in the industry from April till November. Our average is 83% loads for the last nine months. I think it is a testament not only to the strategy that we developed but more importantly to the quality commitment that we ensure we give our passengers.
Majumdar: The bottom-line is that, Vision 2010 is very much in place from the governments side and exciting times are ahead. Most importantly, the airlines, and indeed the market and the consulting players, are watching keenly as the events unfold and the vision unravels itself at the governments end.