Summer planting improved over the last week but till Friday was still 45% less from a year before, while seasonal showers dropped 34% from a benchmark average and water reserves fell further, prompting the government to predict much lower grain production this kharif season than a year earlier, reports fe Bureau in New Delhi. However, officials say if monsoon shower continues to lash central and northwestern regions as it has over the past two days, the rainfall deficit will narrow and outlook on production would brighten.
Of the record grain production of 264.38 million tonnes in the last crop year through June, kharif crops accounted for 49%, or 129.37 million tonnes. As per preliminary trends on sowing and present rainfall scenario in the country, production of kharif crops during 2014-15 is likely to be far below the record levels of production achieved during the last year, minister of state for agriculture Sanjeev Kumar Balyan told the Parliament in a written reply.

While the planting of paddy has improved due to showers over the eastern regions, what still worries the government is a 72% drop in the sowing of oilseeds and a 62% and 60% fall in that of coarse cereals and pulses, respectively, despite a recent pick-up in sowing. Overall planting was down by almost half until July 10.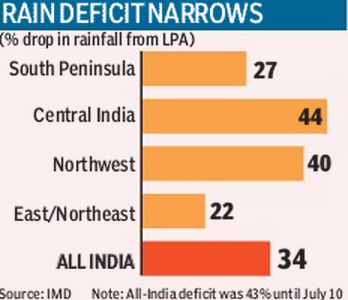 Thankfully, the Met office said on Thursday that the monsoon had entered an active phase and heavy rains are expected over the next 10 days. So the grain-bowl regions in the northwest, oilseed and pulse areas in central India and the cotton-producing western regions are now expected to receive heavy rainfall in the coming days.
This could also boost the water reserves level, which, at about 40 billion cubic metres as of Thursday, was down 39% from a year ago and 12.6% from the normal 10-year average.