Consumption of high-speed diesel, subsidy on which has long been a big drain on the exchequer, has hardly grown in Jan-Oct 2013.
The pricing reforms in
diesel
and LPG, unleashed in January this year, coupled with the economic slowdown have dented the consumption of both these fuels. The fall in demand for these fuels, which are still heavily subsidised, has been big enough to significantly reduce the growth in the countrys overall consumption of petroleum products. This is even as use of petrol, which is decontrolled, has only grown faster.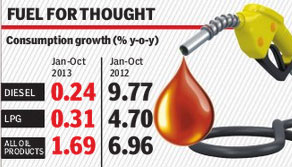 According to the Petroleum Planning and Analysis Cell (PPAC) data, consumption of high-speed diesel (HSD), subsidy on which has long been a big drain on the exchequer, has hardly grown in January-October 2013, compared with around a 10% increase in the corresponding period last year. In fact, in six out of the 10 months to October, diesel consumption has shown negative year-on-year growth, with June representing the inflection point.
This would doubtless help policymakers, who aim to reduce diesels share of fuel subsidy to 46% in the current fiscal, from 59% in FY12.
Similarly, consumption of LPG, subsidised sale of which was restricted since January by limiting the number of low-priced cylinders per household to 9 in a year, grew just 0.31% in the first 10 months of 2013 compared with 4.7% in the year-ago period.
The higher-than-expected elasticity of demand for these sensitive products to the price increases would likely have a salutary impact on the central budget, the countrys balance of payments and upstream oil firms finances.
Retail diesel prices have been hiked 50 paise a month since January almost unfailingly (the government says this fuel would be deregulated in six months). Pricing reform for LPG is also under way, although experts ask for sharper hikes in its prices.
Overall consumption of petroleum products including decontrolled products like naphtha (which goes into the petrochemical value chain), furnace oil and LSHS and petroleum coke have also shown a significant decline in growth in January-October 2103 1.69% against 6.96% in the corresponding period a year ago. The growth, comfortingly for the policymakers, has been lower than the 4.1% projected by the PPAC for FY14.
India is the worlds third-largest consumer of petroleum products, with consumption of 157 million tonnes in FY13, even as less than a quarter of that demand is met by domestic production.
The fall in fuel demand growth cannot be attributed solely to the economic slowdown (the economy grew a dismal 4.4% in the June quarter and no major uptick is predicted for the September quarter). This is evident from the fact that petrol consumption has grown 8.7% in January-October this year against 5.2% in the year-ago period. (With diesel prices going up, carmakers see a demand shift in favour of petrol vehicles.) Neither is diesel being replaced by furnace oil (FO) for industrial use and electricity generation. As per PPAC data, consumption of FO& LSHS declined a sharp 21% in January-October this year as against a 15% fall in the year-ago period.
Diesel accounts for 75% of price-regulated petroleum products consumed in the country and 45% of overall fuel consumption. About 17% of the sensitive products basket is occupied by LPG, whose imports are on the rise to meet the local demand, while the use of kerosene, the other product in the category, is on a consistent decline.
The stunted growth in consumption of diesel and LPG signifies that even as it is debatable if a tight monetary policy is efficacious in an economy hit by a slump in aggregate demand and persistently elevated price levels of food items, theres no question that fiscal controls work. The higher import taxes on gold, it may be noted, have steeply reduced its imports and allayed fears about a runaway current account deficit.
According to Debasish Mishra, senior director at Deloitte in India, though the price elasticity of diesel is not very high, a change in diesel prices does affect buying decisions particularly on the retail side. As far as bulk diesel is concerned, higher prices can be a pass-through and so the elasticity is lower compared with retail sales.
Of course, despite a relative respite in Indian-basket crude price, the rupees fall poses a threat to the governments plan to eliminate diesel under-recoveries which, vexatiously, stand roughly at the same level as in January, when the monthly price hike plan was launched. Under-recovery on diesel currently stands at Rs 9.69/litre, that on kerosene at Rs 35.77/litre and LPG at Rs 482.41/cylinder. In January, these figures were Rs 9.28, Rs 30.64 and Rs 490.50, respectively. Diesel accounted for 57% of PSU oil retailers under-recoveries of Rs 1.6 lakh crore last year.
GS Wankhede, executive director at BPCL, said diesel sales have also been impacted by transient factors like good rainfall and a boost in power generation. Thanks to better rains, the demand for irrigation pumps has fallen, thus reducing diesel consumption, he said.
MS Damle, executive director, HPCL, said that slow industrial activity in areas like mining and construction has also led to the fall in diesel consumption. However, as some bulk users like state transport undertakings have now started procuring diesel from retail outlets owing to the deregulation of bulk diesel prices, the retail sales number have not been very badly hit, he said.