Power equipment maker Bharat Heavy Electricals (BHEL) on Friday reported a 17.5% drop in its net profit for the third quarter to R1,182 crore on account of rising costs at a time the power sector is gripped by a slowdown. The companys stock closed R2.35 or 1% lower at R225.35 on the BSE.
BHEL had posted a net profit of R1,432 crore in the same period a year earlier. On a sequential basis, the companys net profit fell 7%.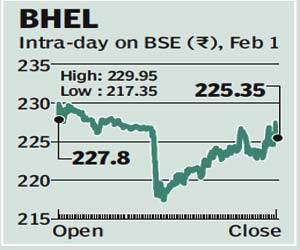 The numbers were below market expectations. BHEL disappointed on the top line as well as on the bottom line, said Amit Patil, an analyst with Angel Broking.
Net sales fell 5% to R10,041 crore during the latest quarter. While the equipment makers revenue was hit by the slowdown, its expenditure went up, especially on account of employee and financing costs, which in turn dented profits.
The companys accumulated net profit for the three quarters worked out to R3,372 crore, which is 8% lower compared with that reported in the same period in the previous year.
BHELs order book has declined 22% during the last one year and stood at R1.13 lakh crore at the end of December. Industry experts feel that the trend will continue.
Because of the economic slowdown and other issues like delay in fuel linkages, power companies have been going slow on project implementation and holding back payments to contractors. As a result, BHEL has not been able to book revenues in several cases despite incurring expenditure, which has impacted revenue, according to industry experts.
Rough patch
* Order book fell 22% in one year; stood at R1.13 lakh cr at Dec end
* Net sales fell 5% to R10,041 cr; revenue hit by slowdown too
* Competition increased with the entry of L&T, JSW and Bharat Forge