Indias largest companies by market value saw a significant rise in cash and equivalents on their books, along with the cash profit they made in the last financial year. Analysts read this as a sign of the downturn in the economy having bottomed out and the cusp of a new investment cycle that companies are likely to start shortly.
The total cash profit of the 30 companies that form a part of BSEs benchmark index, Sensex, rose 14.6% in FY14 over the year earlier at R2.7 lakh crore, a significant improvement over the marginal 1% rise in FY13.
The universe of companies whose numbers have been analysed excludes banking and financial services firms and Sesa Sterlite.
The cash profit growth registered by these companies was the best in three years. The aggregate cash and cash equivalents on the books of these companies also registered a healthy 12.23% growth in FY14 to R3.76 lakh crore, compared to 4.8% growth a year earlier.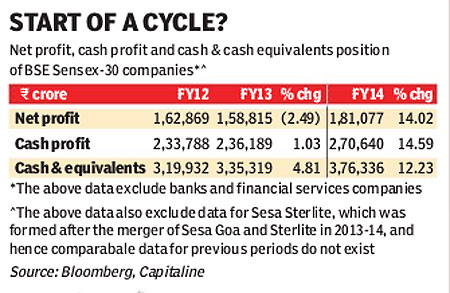 One of the main reasons for cash and cash equivalents growing on companies balance sheets is their predisposition to retain as much cash as possible in their reserves since investing in capital creation and chasing revenue growth did not make sense in a slowing economy.
When a downturn is near its bottom, the cash position of companies generally tends to improve as they stop chasing revenue growth and the working capital cycle improves, said Saurabh Mukherjea, head of equities research at Ambit Capital.
When the economy is doing well, companies are comfortable with selling to customers on credit and in turn delay payments to suppliers. But in a downturn, companies keep a tight control on costs and receivables, which adds to cash profits.
In addition to this, the sharp depreciation of the rupee versus the dollar helped companies engaged in exports like information technology firms, automobile and pharmaceutical makers rake in more cash during the fiscal.
Not surprisingly, some of the major gainers (in percentage terms) as far as cash and equivalents is concerned were companies like Sun Pharmaceutical Industries Ltd (up 184.16% at Rs 9,588.6 crore), Tata Consultancy Services Ltd (103.75%at Rs15,649.54 crore) and Maruti Suzuki India Ltd (up 68.21% at Rs 9,654.45 crore).
Companies like Sun Pharma, for instance, benefitted from significantly higher revenues, especially dollar revenues from the US market. TCS international business also did well on the back of a recovery in the Eurozone and US.
The other reason for the cash position of firms improving in fiscal 2014 is that a number of companies, especially those in the infrastructure space, have been de-leveraging their balance sheet by monetising non-core or unviable assets. The proceeds from such sales have been used to repay debt, which has brought their interest cost down.
Going forward in fiscal 2015, with an upturn expected in the economy, the working capital days cycle and cash position of companies may deteriorate since they start chasing revenue growth again and dont care much for conserving cash, with the possibility of raising further capital from buoyant markets, Mukherjea says.