Every third year, when we undertake a review, what was core earlier, becomes not so core. The whole idea is that the management attention should be focussed on bigger opportunities.
A M Naik CMD, Larsen & Toubro
The Rs 37,034-crore (2009-10 revenues) engineering and construction major Larsen & Toubro is in the throes of a major transition. The company is planning to reorganise its operations into nine business verticals as the conglomerate seeks to simplify its structure to better manage growth. L&T, which has seen intense competition snapping at its heels of late, operates in diverse industries including engineering, power and shipping, but has stepped up its focus on financial services and software businesses in the past few quarters to diversify from its core engineering business. L&T has seen rapid growth in the past few years as India pushes ahead to revamp roads and airports, and to expand industrial capacity.
As per the restructuring plan, power equipment, hydrocarbon, heavy engineering, infrastructure, building and factories, metals and minerals, electrical and automation products, electrical construction, machinery and industrial products segments will make up the nine units. Each of these units will act like independent companies, will have an internal board, and independence to take investment decisions. The business verticals will be in addition to large existing units such as L&T Finance, L&T Infotech and L&T Power Development that would have precedence for listing on stock exchanges.
In an interview with FE, AM Naik, the companys CMD had said, Every third year, when we undertake a review, what was core earlier, becomes not so core. We are in 65 businesses, and we cant remain in all these businesses. The whole idea is that the management attention should be focused on bigger opportunities.
One of the highpoints of the company in 2009 was its attempts to take over Satyam Computer Services. L&T Infotech had still not been able to break into the big league and a buy-out would have given the company a critical mass. However, it did not succeed, with Tech Mahindra ultimately winning the bid for Satyam.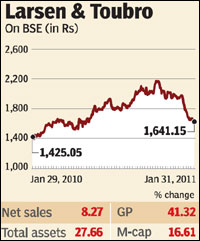 Although, for the third quarter ended December 2010, the company had an order inflow of Rs 13,366 crore, taking the companys order book to Rs 1,14882 crore, it had warned that it may not be able to meet its full-year order book growth target of 25% without a pickup in the fourth quarter of FY2011, as orders were getting deferred in many segments. The company reported gross sales of Rs 11,418 crore, for the quarter ended December 31, 2010, registering a growth of 40% y-o-y. Profit after tax for the quarter, excluding exceptional and extraordinary items, stood at Rs 811 crore, recording an increase of 16% over the corresponding quarter of the previous year. The company continues to get much of its revenues from the engineering & construction segment.
L&T is planning to launch an initial public offer of its L&T Finance Holdings unit, but has said the exact timing of the launch would depend on market conditions. L&T, which serves the power segment across the entire spectrum, exported its first nuclear equipment to the USA in January 2011. The company delivered the first four dry shielded canisters for Transnuclear Inc, USA. These canisters form a part of orders of 50 such units for US nuclear plant operators.