Tata Motor?s standalone revenues for fiscal 2014 stood at Rs 34,288 crore, 23.4% lower than a year earlier
In a rare instance for an Indian company, the shareholders of Tata Motors have rejected the remuneration plan drawn up by the company for its executive directors in the wake of the companys poor performance in the last fiscal.
In a filing to the bourses on Thursday, Tata Motors declared the results of a postal ballot held to seek shareholder approval for six special resolutions, including approval of remuneration to be paid to executive directors, borrowing powers of the board, creation of a charge on the companys assets and offer a subscription of non-convertible debentures.
While the remaining special resolutions were passed by the shareholders, resolutions pertaining to the approval of payment to directors in excess of their minimum entitlement were vetoed by shareholders.
These directors include Ravindra Pisharody, executive director (commercial vehicles), Satish Borwankar, executive director (quality) and Tata Motors late managing director Karl Slym, who died in January.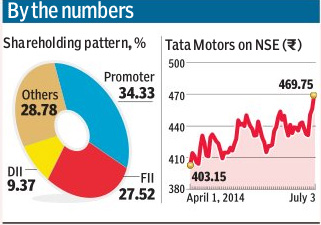 It is not common for special resolutions floated by Indian companies to get blocked due to lack of sufficient votes. A special resolution needs more than three-fourths of the number of votes to be cast in its favour in order to be passed.
Usually, promoters of firms can ensure the passage of a special resolution by virtue of their majority shareholding in the company, along with some help from institutional investors. Also, on many occasions retail shareholders do not fully participate in these postal ballots, which helps in the passage of the resolution.
Around 65% of the votes cast by institutional investors in Tata Motors and around 41% of the votes cast by retail shareholders went against the carmakers remuneration proposal.
Also, retail shareholders voted in large numbers in the ballot. The proportion of votes polled on the outstanding shares of the company held by retail shareholders stood at around 62%.
In the announcement of the postal ballot dated May 27, Tata Motors had sought shareholders approval for payment of remuneration to executive directors in excess of their minimum entitlement despite the company reporting inadequate profits for fiscal 2014.
Minimum entitlement in the case of that to be paid to Tata Motors executive directors comprised salary, dearness allowance, perquisites and other allowances, excluding commission.
It sought approval to pay Pisharody and Borwankar a salary of up to Rs 7 lakh per month each, which comes up to Rs 84 lakh a year. For Pisharody, the proposed annual salary was double of what he earned in 2012-13, and represents a 154% jump in the case of Borwankar over what he earned in the same period.
The resolutions to ratify the salaries of these top management personnel needed shareholder approval due to the inadequacy of profits reported by the company in 2013-14, in accordance with the Companies Act, Tata Motors said in an emailed statement issued on Thursday.
The company takes due note of the postal ballot results, the Tata Motors statement said. The company takes cognisance of the shareholders views; at the same time, it is necessary to balance this with recruiting and retaining an industry-proven management team through the long term. This involves ensuring that the companys leadership and talent base is appropriately remunerated, notwithstanding cyclical phases.
Tata Motors added that it was currently considering its options and would move ahead taking into account the best and most equitable interests of all stakeholders.
Tata Motors standalone India business is going through a rough time in both the commercial and passenger vehicles segments, said Surjit Singh Arora, auto sector analyst at Prabhudas Lilladher. Given the current situation, such a steep hike in salaries seemed difficult to implement and hence did not get shareholders approval.
Tata Motors passenger vehicle sales declined 36.7% year-on-year in fiscal 2014, and it was the biggest loser in volume terms among all the carmakers in the Indian market. The companys commercial vehicle sales fell 28.5% in the same period.
Tata Motors standalone revenues for fiscal 2014 stood at Rs 34,288 crore, 23.4% lower than a year earlier. Its net profit in the same period stood at Rs 334.52 crore, around 11% higher over fiscal 2013. In the January-March quarter, Tata Motors posted a big loss of Rs 816.61 crore.
Yashesh Mukhi, auto sector analyst at Morgan Stanley, said that this was another example of the minority shareholders of companies getting more active in voicing their concerns. Recently, the institutional shareholders of Maruti Suzuki opposed the companys move to allow Japans Suzuki Motors to directly set up and operate a plant in Gujarat.