Relatives of passengers on board Malaysia Airlines Flight MH370 prays. (AP)
A CRUCIAL stage in the four-week-long search for the missing Malaysia Airlines plane began on Friday as two military ships - one from Australia and the other from Britain - directed their sensor technology beneath the surface of the water and began the underwater phase of the hunt, hoping to pick up signs of wreckage lying at the bottom of the Indian Ocean.
The ships would begin searching a single 150-mile-long track of the ocean floor, each starting from an opposite end and converging in the middle, said retired Air Chief Marshal Angus Houston, the Australian official overseeing the coordination of the search. Both vessels are equipped with listening devices that can hear any pings from the planes flight data and cockpit voice recorders, or black boxes.
Houston said the two ships - the HMS Echo of the Royal Navy and the Ocean Shield of the Royal Australian Navy - were part of a deployment of nine vessels involved in Fridays search, about 1,050 miles off Perth, Australia. The ships will be joined by as many as 10 military planes and four civilian jets, which will conduct surveillance flights over the search zone throughout the day.
The Ocean Shield is outfitted with a so-called towed pinger locator, a batwing-shaped device with a microphone that is towed below the vessel and can pick up any signals from Flight 370s black boxes.
A lot of hope is riding on the effectiveness of the underwater listening devices - and on the estimates of the data from analysts that have designated the search zone as the most likely location of the planes plunge into the ocean.
The black boxes batteries, which have a life span of about a month, are expected to expire next week. When they die, so will the pinger signal, leaving the boxes to rest mutely on the seabed and making their discovery far more difficult.
In the meantime, crews on the planes and other vessels will continue searching for floating debris from the plane. If debris is found and confirmed, it might help searchers determine the planes point of entry into the ocean.
Also read: Malaysia Airlines Flight MH370: Searchers launch most intensive hunt yet in Indian Ocean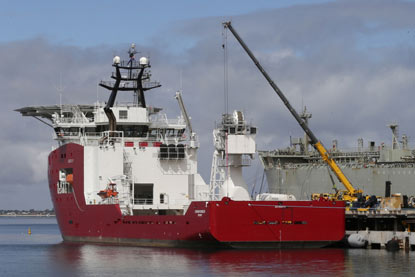 IAustralia's military ship Ocean Shield lies docked at naval base HMAS Stirling while being fitted with a towed pinger locator to aid in her roll in the search for Malaysia Airlines Flight MH370. (AP)