Indian stocks soared on Tuesday, rallying to their highest levels in nearly three weeks, with the markets rejoicing in the wake of an affirmation by Moodys Investors Service that the outlook on India is stable. Brushing aside a falling rupee, a possible washout of the winter session, the fiscal cliff in the US and slowing global growth, the markets celebrated Moodys positive view on the country as also renewed attempts in the euro area to avert a crisis in Greece.
On Tuesday, the Nifty put on 91.55 points to close at 5727.45 while the Sensex added 1.65% to end the session at 18,842.08 points. Foreign institutional investors continue to shop for Indian equities; with Tuesdays purchases of $195 million, they have now bought stocks worth more than $19.5 billion so far in 2012, the largest amount in Asia this year. India remains among the best-performing markets in 2012 with the Sensex having posted dollar returns of 16.4%, way above the 7% gained by Indonesia and 9% clocked by Taiwan. The Shanghai Composite has lost 8.3%.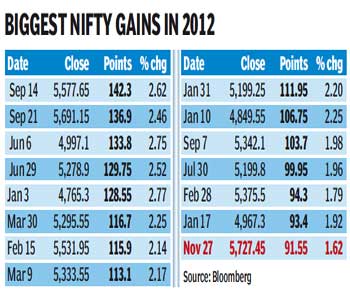 Over the past two to three quarters, both Asia ex-Japan and global emerging market funds have turned overweight on India relative to benchmarks, the former by 1.9% and the latter by 1.0%. Moreover, in a recent report BNP Paribas noted that the sources of FII flows had changed slightly in recent months.
We are seeing more flows from 'regular' sources, flows from 'other' or unexplained sources have declined from 50% in 1H12 (the first half of fiscal 2012) to less than 20% in 3Q12, the report observed.
On Tuesday, India was the biggest gainer among its Asian peers and even dominated the gains made by European indices after euro area finance ministers agreed to a deal on aid for Greece. While Asian markets including the Kospi and Taiex clocked in some gains, Chinas Shanghai Composite closed below 2,000, for the first time since early 2009. European markets, including the FTSE 100, Euro Stoxx, CAC 40 and DAX, opened higher and added 0.4% to 0.6% as of 6 pm Indian time. In India, mid-cap and small-cap counters also rallied smartly with the former putting on 1.2% and the latter 0.9%.