Following positive sentiments in the sector driven by the formation of a new central government,
Reliance Power
has been one of the best performing stocks in our coverage universe, up around 50% in the last one month. However, we do not think much has changed fundamentally for the company in such a short span and many serious overhangs remain. We are downgrading our rating to Sell from Buy while maintaining our price target of Rs 100.
Overhangs remain: We think the following overhangs remain: (i) no visibility on gas availability for the 2,400 MW Samalkot project; (ii) power demand from distribution companies has been lower (due to their poor financial position), which is a risk for plant utilisation; and (iii) there is still no final clarity on usage of excess coal from Sasan UMPP. The other issues are a lack of visibility on imported coal-based 4,000MW Krishnapatnam UMPP and slowhydro project development.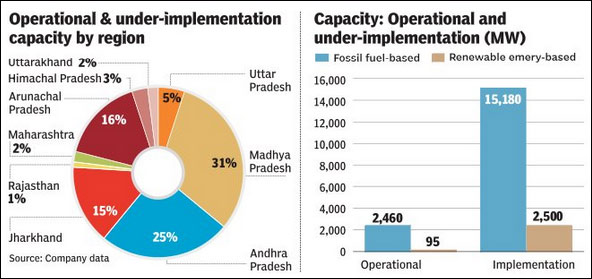 Structural reforms in the sector: The central governments direct control is limited on some core power sector issues, but we are positive regarding the initiation of structural reforms in the sector because: (i) state electricity boards (SEBs) and power distribution companies need financial support from banks and they are controlled by the central government;
(ii) the Centre could help SEBs improve performance by offering efficiency-linked incentives; and (iii) the Centre controls public sector undertakings (PSUs) such as NTPC and Power Grid. If large-scale structural reforms are implemented, we think the impact on distribution (and, therefore, the power sector) would be positive.
Valuation: Downgrading to Sell from Buy; maintain price target of R100: Our DCF (discounted cash flow)-based PT (price target) includes 13,680MW of projects assuming an 8.8% risk-free rate, a risk premium of 6.5% for the Chitrangi power station and 5.5% for other projects.
Key risks to our view
Some of the key risks to our view include:
(i) Reliance Power is a stock highly sensitive to sector news flow. Therefore, if the government progresses with power sector reforms and there is a faster implementation of measures such as debt restructuring for SEBs, the stock may continue to perform.
(ii) Any positive news flow on coal usage and gas availability may have a positive impact on stock sentiment. This is because significant progress on fuel availability for its gas-fired plants poses upside risk to our valuation.
(iii) Significant development on execution may result in faster than expected revenue growth.
UBS