Samsung Galaxy Note Pro carries an estimated price tag of Rs 64,990.
Unlike smartphones, high-end tablets that run Android are few and far between. Even among the few premium Android tablets, focus on productivity is rare. Thats why Samsungs 12.2-inch Galaxy Note Pro appears to be targeting a niche thats waiting to be created.
When it comes to tablets and laptops, its a black-and-white world. Tablets are for consumption, while laptops are for getting work done. Although some use tablets for productivity tasks, many still feel the need for a laptop. In such a situation, can the Galaxy Note Pro stand out Lets find out.
Build & design
The Galaxy Note Pro looks unmistakably like a Samsung product. The oval home button, stylus and faux-leather material used at the back are reminiscent of the Note 3. Since the tablet shares Note 3s brand name, the similar design ethos makes it easy to identify as a Samsung product.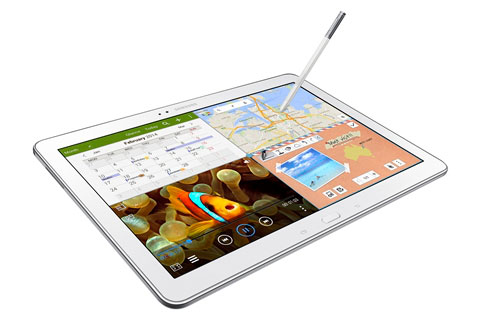 The faux-leather material is not universally popular, but in this case it is a positive. The material makes the tablet good to hold and adds to its looks too. The build quality of the tablet is good and the metal finish on the sides add to its sturdy frame. Its hard to use this tablet with one hand, even though Samsung has made it sleek and light for its size.
One new component is the new charging port. The microUSB 3.0 charging cable looks like a two-headed snake. One of these heads is the standard microUSB connector, while theres another, slightly wider connector right next to it. This means that you can use your phones microUSB cable to charge the Note Pro and transfer data, but that will be slower than with the new cable. The connector is quite ugly, but I guess thats the price to pay for backward compatibility. Youll also have to make sure that you maintain the cable very well. If you lose or break it, youll have a hard time charging the Note Pros massive 9,500 mAh battery.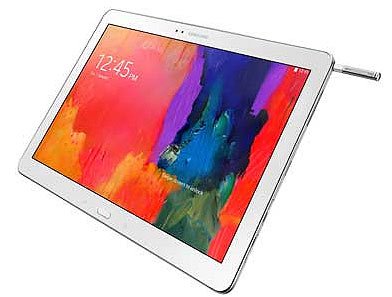 Display
Note Pros screen is 12.2 inches diagonally. Thats larger than almost all tablets available in India. The resolution is a whopping 2560 x 1600 pixels. Needless to say, the Note Pro offers an amazing experience when watching videos. The same goes for reading books. I used this tablet as my primary ebook reader and was immersed in a few engrossing novels. I wasnt able to do the same on low-resolution tablets. However, the display is reflective. I couldnt read in sunlight or when a tubelight was right over my head.
Software & performance
Samsung has gone to great lengths to make sure that this tablet serves you well as a productivity powerhorse. The first thing you will notice is the stylus and the apps that work with it. When you remove the stylus from its cavity, a circular menu pops up, asking you which of the stylus apps you want to use. I found myself using the S Note app, linked to my Evernote account, to jot down notes and the Sketchbook app to draw rough pie-charts or just to doodle. S Pen is very light and does what it is supposed to without fuss. Note Pro has a neat Air Command mode, which requires you to hover the stylus over the app or button you want to select and press the
button on the stylus to click. I didnt use this feature much.
When you swipe to one side on the homescreen, youll see the Note Pros Magazine UX. Samsung built this in collaboration with Flipboard, which offers a magazine-like reading experience on tablets. You cant disable Magazine UX, but it is not the default homescreen. Those who liked HTCs Blinkfeed might want to use this feature. It lets you link your email and calendar accounts to give you a quick look at both. Another swipe takes you to the news section, where articles from your favourite news sources will show up. I am not a big Flipboard or Blinkfeed fan, but I did find Magazine UX convenient.
When you swipe from the right edge to the left, youll see two columns of apps that you can drag to the screen for multi-tasking. Samsung allows you to run up to four apps at a time. Some apps arent supported in this view, but I regularly pinned a browser, YouTube, S Note and a chat app. The screen is so big that none of the four apps look small or cramped. This made sure that I could speed up some of my taskstaking notes while checking email or monitoring my Twitter feed while writing. This is also where the tablet revealed some performance issues. When I played a YouTube video and pinned the music app (Chrome and S Note were open in the other two slots), there was a noticeable lag. Scrolling wasnt smooth and switching between apps became slow. Thats disappointing, considering that this is such an expensive tablet.
The on-screen keyboard deserves a special mention here. It looks like a mechanical keyboard and improved my typing speed because several common actions were just like those on a physical keyboard. Theres a dedicated row of numbers at the top and when you press shift, you will see special characters. Still, the experience isnt as good as a physical keyboard and you should get one if you intend to type a lot.
If you plan to use Note Pro as a device for presentations, especially those that involve video, this tablet wont disappoint. The speakers are loud enough and the screen is big enough for small conference rooms. The battery life is quite good. With moderate use, the tablet ran out of charge in two days.
The Note Pro has a great display and some nice software tweaks to make it appealing as a productivity workhorse. But the big question is whether you are willing to shell out Rs 64,990 for a productivity tablet. At that price point, there are excellent laptops in the market that would do the job just as well. Android, in spite of Samsungs tweaks, still isnt a great platform for tablet apps. For those reasons, its hard to recommend the Note Pro over an Ultrabook or a MacBook. Still, if portability and big screen size are quintessential, then the Note Pro is a good productivity device, even if the price is steep.
Estimated street price: Rs 64,990
Also see: Financial Express: India's Best Banks