The rupee rose for a second consecutive session on Tuesday, ending the day at 60.85 against the dollar.
The domestic currencys rally came on the back of gains in domestic shares, after foreign investors turned buyers following a three-day selling streak. The rupee which started at 60.95 after closing at 60.93 the day before overcame some volatility earlier in the session.
As was being expected, the Reserve Bank of India kept interest rates unchanged and voiced a commitment to bring down inflation, which is also expected to be supportive for the rupee in the longer term.
But in the near term, analysts say, the currency will likely be impacted by global markets after sudden falls had sent the currency to its worst weekly performance since the record low levels in August last week.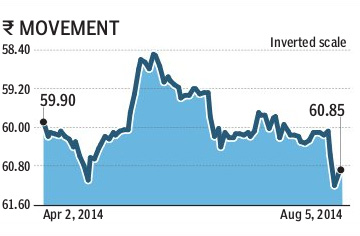 In the absence of any major domestic events or data in the rest of the week, the market will continue to monitor the global geo-political tensions for cues, said Hari Chandramgethen, head of foreign exchange trading at South Indian Bank. The range of 60.65 to 61.40 on the rupee should hold for the week, he added.
The rupee moved in a wide range on Tuesday, startig the day at 60.95 a dollar, and then moving down further to a low of 61.00 on initial hesitancy in local equities. Later, the domestic currency bounced back in line with domestic bourses and touched a high of 60.69 before settling at 60.85, a rise of eight paise or 0.15%.
On Monday, the unit had gained 0.4% its biggest single-day gain since July 11.