Rupee fell 1.6% on Monday to near seven-week low as traders shunned high-yielding currencies globally over the perceived safety of the dollar ahead of the US election and amid uncertainty over the European debt crisis.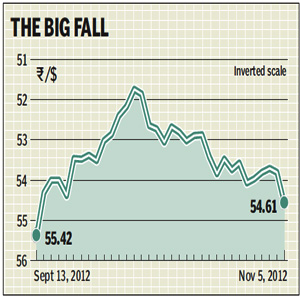 The rupee hit the days low of 54.69 before ending the session at 54.61/$.
Risk aversion was evident from the euro's fall to an eight-week low of 1.2793/$ and the dollar index's rise to 80.70. The euro fell on concerns that Greece may not be able to meet the requirements for a bailout package. Treasurers are divided on rupee's trend from hereon with some fearing the currency could weaken further to 55/$.
Rupee has lost over 1% ever since the Reserve Bank of India (RBI) slashed the country's economic growth to 5.8% from 6.5% at the second quarter review of monetary policy on October 30. This coupled with risk aversion globally had dragged the currency down in the last one week.
We need next phase of reforms. We need the reforms to be implemented for rupee to gain. I don't see much appreciation for rupee, said P Mukherjee, the head of treasury at Axis Bank.
The rupee had gained 3% over the last two months after the government announced a series of measures to boost inflows which included more foreign direct investment in retail, aviation and broadcast.
Emboldened by the measures, FIIs had poured in $4 billion into equities and debt in September. Since January, FIIs have invested close to $18 billion in Indian assets.
Some treasurers expect the currency to strengthen on the back of such dollar inflows. However, the rupee's movement in the immediate term would largely depend on the outcome of the US elections as that would set the tone for global equities and the dollar. Treasurers largely expect the rupee to trade in the 53.50-54.50 band in the coming weeks.
A lot of the movement for the rupee would be contingent on the US elections. We are optimistic on the rupee and these levels should hold for a couple of months, said Anindya Dasgupta, managing director and head of treasury at Barclays Capital.
Treasurers said while the relative stability of the rupee over the last two months is welcome, companies are still reluctant to hedge in a big way.
Recently, deputy governor of RBI HR Khan had said most corporates have not hedged nearly 65% of forex loans. Mukherjee of Axis Bank said banks always encourage clients to hedge their exposures. Hitendra Dave, head of treasury at HSBC Bank believes companies are not averse to hedging. We have always encouraged clients to hedge and they are willing to as well, he said.