Sales poised to revive as retail demand in rural markets pick up
Hero Motocorps Q2FY13 results were better than beaten down expectations. We expect a revival in sales and market share from Q3 as retail demand in rural markets pick up. We do not believe Heros core brands are under threat and continue to like the business for its strong cash flows and return ratios.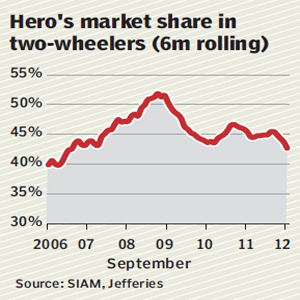 Heros ASP (average selling price) was 2% ahead of estimates, boosted by better variant mix and strong spare parts sales. Consequently, gross margins improved 100bps q-o-q (vs expected flat). Continued investment in brand building resulted in core margins dropping 110bps. Reported PAT (-7% y-o-y) beat our estimate by 17%. However, we would watch out for outstanding due from dealers, which rose in H1 resulting in receivables rising from 4 days (Mar-end) to 12 days of sales (Sept-end).
Demand set to look better: Demand in Q2 was weaker than our muted expectations, as rural markets slowed sharply due to delayed monsoon, which impacted Hero given its higher exposure to rural markets (46% of sales vs est. 35-40%). However, the rains did revive and rural consumer sentiment has improved. Management commented that the demand in the first few days of the festive season was ahead of the demand witnessed in similar period last year.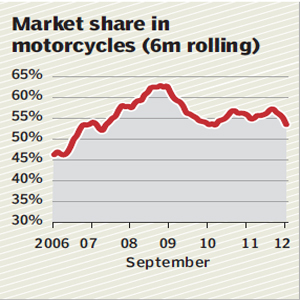 We dont think Hero franchise has weakened: We believe consensus interpretation of market share data of the last few months ignores the trend seen so far. Hero lost share in Q2, as (i) it corrected inventory and (ii) rural slowed more than urban. YTD numbers are a better indicator of share movesHero has lost 270bps in the two-wheeler market. In the economy segment of motorcycles, Hero has gained share; in the executive segment, it has lost share to Honda (new product, capacity constraint resolved) but out- performed Bajaj; in scooters, Hero has gained share. Only in the premium motorcycle segment has Hero done poorly but it has always been weak here.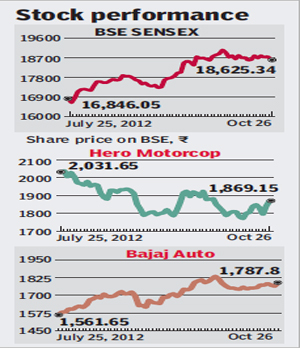 Valuation: We cut our DCF-based TP (discounted cash flow-based target price) marginally by 2% to account for earnings changes.
Risks: adverse currency and continued weakness in rural demand.
Jefferies