This is the highest resolution screen Samsung has put on its tablets
With a faux leather finish on the back and a fantastic stylus to change your method of input, the Samsung Galaxy Note 10.1 is ready to take on the iPad. But can it justify the 50,000-rupee price tag
Quick Tech Specs: 10.1-inch Super Clear LCD display (25601600 pixels, 299 ppi) | 1.9GHz quad-core processor + secondary 1.3GHz quad-core processor | 3GB RAM | 32GB storage + microSD slot (up to 64GB) | 8MP rear camera (1080p FullHD video), 2MP front camera (1080p FulHD video) | 3G with SIM slot | Wi-Fi 802.11 b/g/n/ac, Wi-Di | Bluetooth 4.0 | 8220mAh battery | Android 4.3 Jelly Bean
Design: Is it plastic Yup. Does it feel cheap Nope. Samsungs devices have historically gotten a lot of flak for their plastic-y feel, but as we have seen with the Note 3, the introduction of a new faux leather finish on the back is changing all this. Couple that with ridged trimmings on the sides (again, plastic made to look like metal) and solid build quality, and its hard not to be impressed with the look and feel of the device. Even the stylus, housed at the back, is perfectly flush with the design and gives you a satisfying click when you remove or insert it.
Screen: This is the highest resolution screen Samsung has put on its tablets and the result is clear to see when youre reading. Whether its text or comics, the Note 10.1 can rival the iPad and any other slate out there. But the screen does take its toll on the processor.
Performance: Youd think that with two quad-core processors, the Note 10.1 could handle anything you threw at it. Unfortunately, theres a noticeable lag on the default TouchWiz UI itself. And it gets worse when you are multi-tasking between heavy apps like an HD game and the Chrome browser. If youre playing a game like FIFA 14 and receive a bunch of notifications in the background, youll see a slight stutter now and again. At Rs. 50,000, this is unacceptable.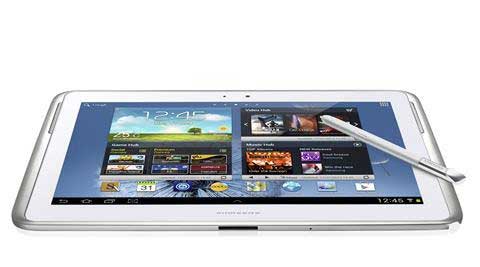 Memory: Theres 32GB of built-in memory (of which 26GB is available to the user), and a microSD slot for another 64GB card.
Connectivity: Personally, I do believe tablets are best when you put a SIM card in them. It actually makes them more useable on the move, and thats the whole point, right So its great that the Note 10.1 offers this option.
Software: Well come to the Air Command for the S-Pen in a bit, but even apart from that, Samsungs TouchWiz customizations are best on these large-screen devices, especially the 10-inch tablets. Something like the Multi Window view, which lets you open two apps next to each other, makes the tablet immensely more powerful as a computing device. You can actually imagine doing a lot of real work on this, unlike an iPad. That said, Samsung does go a bit overboard with the built-in apps, like the unnecessary Flipboard-integrated My Magazine. If you dont want that RSS reader, well, too bad because youre stuck with it, taking up RAM and memory. And then theres Smart Stay, tracking your eyes to keep the screen alive when youre readingand hogging battery in the process.
Camera: The 8MP camera of the Note 10.1 is a significant upgrade to its predecessor and is every bit as good as last years iPad 4 camera. The iPad still holds an edge in its better focussing ability, but the Note 10.1 triumphs in low-light shots with better flash. That said, neither is as good as the flagship smartphones of their respective companies.
Battery: Some day, there will be a tablet with better battery life than the iPadunfortunately, thats not today. The Note 10.1 puts up a valiant effort with nine hours of continuous video playback and 8 hours of Wi-Fi browsing. But the battery also depends on whether you have a SIM card loaded or not because looking for network with the Note 10.1′s weak antenna drains the battery faster. On average usage, you can expect this gadget to last you about 15 hours of usage.
Special Mention: Of course, what makes the Note 10.1 stand out is its remarkable S-Pen stylus. If you ever thought Samsung doesnt innovate enough, you really havent used the S-Pen for enough time with its new Air Commands. The combination of the stylus and the software changes how you use a tablet, as you can read in this piece. Suffice to say, its a big deal, whether you want to take notes, draw sketches or anything else.
Verdict: Where the iPad is great for consuming content, the Samsung Galaxy Note 10.1 wants you to consume but also create content. Samsungs loaded it with a stylus and some nifty software to do that, but does that justify the price tag of Rs. 49,990 Sadly, no. Its a fantastic device, it really is, but it cant replace your PC or your smartphone, and thats just too high a price to pay for an in-between device. When it eventually drops to around the Rs. 37,000 mark (which is its current price in the US), pick it up without a second thought.
Also Read: When the pen is mightier: Samsung Galaxy Note 10.1 show how a good stylus can change how you use tablets