After two straight months of contraction, industrial production grew the highest in just over a year at 3.4% in April, while retail inflation eased from a three-month peak to 8.28% last month, adding to a seeming revival of optimism, reports fe Bureau in New Delhi.
Growth in manufacturing and capital goods scaled a nine-month peak of 2.6% and 15.7%, respectively, in April, indicating the start of a much-expected investment revival.
But a 5.1% drop in consumer goods output the seventh successive month of contraction reflected persistent weakness in private consumption. Investments seem to precede a revival in private consumption, the growth in which hit a 10-year low of 4.8% in FY14.
Moreover, slowing education, medical care and housing inflation in the consumer price index (CPI) and a drop in core retail inflation to its lowest since June at 7.7% reflect a softening demand scenario.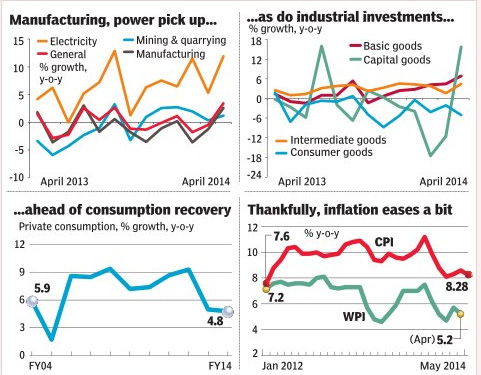 Analysts believe the central bank is still unlikely to trim key policy rates in recent future until a clearer picture emerges on the impact of monsoon, predicted to be below normal in 2014.
Moreover, the threat of widespread dry spells after the weather office predicted a 33% chance of deficient monsoon rains of below 90% of the benchmark average this year worsens the risks of food inflation if the government doesnt get its act together.
However, coming on the back of relatively good trade data merchandise imports barring oil and bullion recorded first growth in ten months in May while exports rose 12% during the month the latest growth in the index of industrial production stirs hopes of a factory revival.
Power generation rose an impressive 11.9%, compared with 5.35% in March, while mining rose 1.2% against 0.34% a month earlier. Consumer price food inflation, long considered the reason for a sticky retail inflation, also inched down to 9.40% year-on-year in May, compared with 9.66% in the month before.