The assurance on additional fuel availability to the Delhi\'s plants was provided by power minister Piyush Goyal.
Finally there is some reprieve for Delhi. The Capital, which a facing a power crisis, will get extra gas supply from the NTPC so that state government-owned generators can produce an additional 400 mw of electricity.
The assurance on additional fuel availability to the Delhi's plants was provided by power minister Piyush Goyal after he held an emergency meeting with LT Governor Najeeb Jung on Tuesday to review Delhi's power situation.
Delhi's discoms have tied up enough power supply from generating stations in other states to meet their peak electricity requirements but due to the destruction of some of its sub-transmission infrastructure in the recent storm, entire power from outside cannot be moved to Delhi. The current power shortfall can be mitigated by utilising the idle capacity of state government's plants.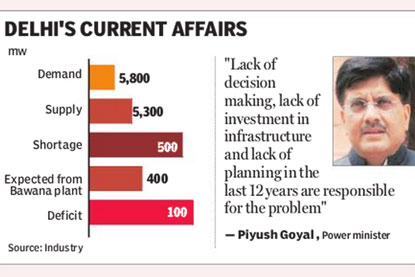 Out of its quota of 3 million standard cubic meter ( mmscmd) gas lying unused with Gail India, state-owned NTPC will divert 0.9 mmscmd of gas to Delhi government's 1,500 mw Bawana power plant, which is currently producing only 290 mw electricity, much below its rated capacity. The plant will be able to run at the higher capacity of 700 mw once it gets additional gas supply. Delhi's current power demand is estimated at 5,800 mw and against that, availability is pegged at 5,300 mw, leaving a gap of 500 mw.
Goyal also promised that the Bawana-Rohini power transmission line, which was damaged by the storm in the capital and adjoining states on May 30, will be restored by Tuesday. "Hopefully, we will be able to meet the peak demand of today," he added. All other transmission lines will be repaired in the next 15 days.
Due to extreme heat, Delhi's peak demand zoomed to 5,400 mw this summer. The situation further aggravated due to the destruction of sub-transmission and distribution infrastructure in the recent storm.
Three 220 kv main transmission lines -- Gopalpur-Mandola, Bamnauli-Papankalan and Bawana-Rohini got severely damaged in the storm that disrupted power supply to east, west and central Delhi.
It also came out in the review meeting that Delhi's transmission system is not capable of meeting peak loads as it has not been sufficiently upgraded in the last 12 years. Adequate investment in strengthening of the sub-transmission and distribution system has not been undertaken including planning and execution of 400/220 kv lines and sub-stations. This has resulted in overloading and tripping of the existing system as and when the demand has gone up, said an official statement.