Tata Group on Tuesday announced a $35-billion capex plan for its existing and newer business segments. (Reuters)
Reliance Industries and Tata Group together plan to infuse nearly two-thirds of the cumulative 6 lakh crore capital expenditure planned over the next three years by nearly a dozen corporate houses and companies.
With corporate Indias sentiments on a high and capital raising becoming a lot easier than it was till six months ago, business houses in India seem to have revived their capital expenditure plans. Tata Group on Tuesday announced a $35-billion capex plan for its existing and newer business segments, becoming the latest one looking to capitalise on improving domestic and global economic environment.
This follows announcements by other large business houses like Reliance Industries, Vedanta Group, Aditya Birla Group, besides several others like JSW Steel and Apollo Tyres, to invest in expanding or adding capacities in the past two months. Reliance Industries had in its AGM in June outlined a huge capex programme of $30 billion to be spent over three years in its oil and gas, retail and telecom verticals.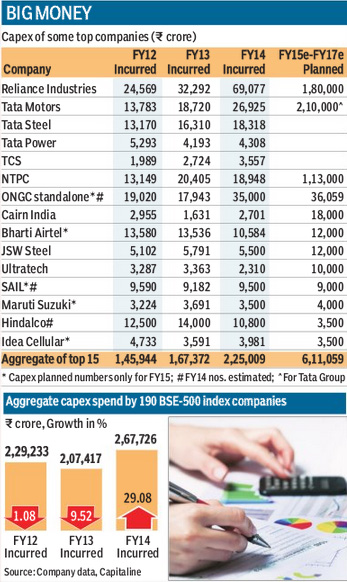 Gautam Chhaochharia, head of India research at UBS Securities, believes that corporate sentiments have turned quite positive in the past few months on the back of improved economic indicators and formation of a stable government, which has resulted in a revival of India Incs capex plans.
There has been some improvement in the macro economy. Infrastructure sector recovery is also beginning. With a stable government at the Centre, corporates are more confident of economic reversal. And since investing in capacity expansion is a long-term decision, they are planning for capex ahead of an actual turnaround, says Chhaochharia.
The Index of Industrial Production (IIP) for May 2014 had come in at a 19-month high of 4.7% with manufacturing (which constitutes three-fourths to the index) rising by 4.8% year-on-year.
The government on Thursday reported that the index of eight core industries, which have a combined weight of nearly 38% in the IIP, grew by 7.3% in June 2014fuelling hopes of positive IIP data for the third straight month, indicating steady economic recovery.
In fact, the capex activity saw a rebound in fiscal 2014 itself despite the GDP growth remaining below 5% for the second straight year. The capex incurred by 190 companies belonging to BSE-500 index rose by 29.08%highest growth in three yearsto R2.67 lakh crore, thanks to Reliance Industries, Tata Group and ONGC that together contributed 60% to overall capex spent by these 190 companies.
RIL had in last fiscal spent R69,000 crore towards investments in its core refining and petrochemical segment, US shale gas business and Reliance Jio. Similarly Tatas spent R53,108 crore as capex across core businesses in auto, steel, power and information technology sectors. Also ONGCs capex shot up in fiscal 2014 to R35,000 crore due to acquisitions of partial stakes in Brazilian oil and Mozambique gas fields.
Rakesh Arora, managing director and head of research at Macquarie Capital Securities, however, believes that it would take a while for the broad-based capex cycle to really pick up.
Its just that companies are reiterating their capex plans right now, but there doesnt seem to any new major project announcement. At the moment, many industries are operating at low capacity utilisation. Also, the capital work in progress is very high, with investments already made yet to be commissioned. So in the near term, I would be surprised to see any significant pick up in new capacity additions.
If the demand outlook witnesses improvement, we may see fresh capex picking up in fiscal 2016-17, says Arora.
As per CMIE, the new investment announcements in the manufacturing sector for the quarter ended June 2014 stood at just R18,000 crore across 50 projects, a sharp drop of 72% over the corresponding quarter of last fiscal.
R Shankar Raman, chief financial officer of L&T, had, during the quarterly earnings call, also highlighted that decision-making on capital expenditure is still laboured and it may take a while for investment cycle to pick up meaningfully.
However Sunil Kakar, group chief financial officer at IDFC, remains hopeful that a determined central government can address real economic issues ranging from fuel supply, environment approvals to complex Centre-state dynamics, and bring back private sector participation in the infrastructure sector earlier than expected.