Oil-to-yarn and retail conglomerate Reliance Industries (RIL) will be investing R1.8 lakh crore between now and FY16 to expand legacy businesses like petrochemicals and refining, and further strengthen new, consumer-facing ventures like retail and telecom, chairman Mukesh Ambani said on Wednesday.
Speaking to shareholders at the companys 40th annual general meeting (AGM), Ambani said his company was in the midst of its most significant investment cycle that once completed will transform RIL into a radically different company. The current investment cycle began in FY14.
Interestingly, the investment target articulated by Ambani on Wednesday is higher than the capital expenditure target of R1.5 lakh crore that he had outlined in his speech last year.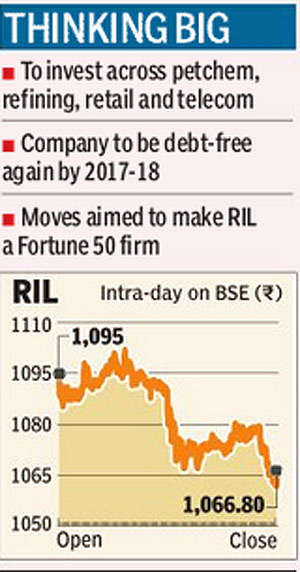 Over the next three years, the commissioning of each of our large projects in petrochemicals and refining, strengthening our retail business and the launch of Jio business (fourth-generation broadband services) will propel us closer to our aspiration of being a Fortune 50 company as we complete 40 years of our corporate journey, Ambani said.
The massive capital expenditure outlay planned by RIL till 2015-16 will also see the companys debt level shoot up in this period. In response to shareholders queries, Ambani said that the conglomerates net debt will go up to around R60,000 crore in the next two years.
After two years of being a debt-free company on a net level, RILs balance sheet showed a marginal net debt of R1,778 crore in fiscal 2014. RIL had a gross debt of R89,968 crore, and cash and marketable securities of R88,910 crore as on March 31.
While we were debt-free, we will go up in (net) debt to about R60,000 crore in the next two years, Ambani said, in an indication that his company will be hitting the debt market in India and abroad in a big way. At Wednesdays shareholder meeting, RIL put to vote a special resolution to raise up to R10,000 crore by way of private placement of non-convertible debentures.
RILs shares closed at Rs 1,066.80 apiece on the BSE on Wednesday, down 2.12%. In comparison, the Sensex dropped 1.08%.
Ambanis remark on addition of debt is in line with what other large Indian companies are doing. With a pro-reforms and stable government in place and institutional investors finding India attractive again, a lot of companies are planning to borrow fresh capital to fund expansion or repay existing, costlier debt.
The RIL chairman was quick to add that once RILs latest investment cycle is completed and the assets created therein start generating cash, the company will return to being debt-free in 2017-18. Shishir Bajpai, senior vice-president at IIFL Private Wealth Management, said that given the scale and size of RILs balance sheet, a net debt of Rs 60,000 crore shouldnt be a concern.
There are many smaller companies that have similar amounts of debt on their books, without the matching assets or cash flows that RIL has, Bajpai said. Also, with an imminent upswing in the economy, RILs projects may generate returns quicker than earlier anticipated, which will help in bringing down debt levels quickly.