In a good start to 2013, Mumbais real estate market saw its highest January sales registrations compared with January 2012 and 2011, indicating some pick-up in sales of houses, which remained sluggish over the last two years.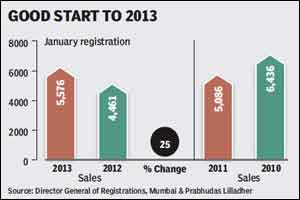 The property sales registrations were 25% higher at 5,576 in January 2013 against 4,461 in January 2012, and 9.6% higher than January 2011 of 5,086, according to data sourced from Director General of Registrations, Mumbai. However, the euphoria has taken a slight dip on a month-on-month basis as the January numbers were down nearly 10% from December 2012 figures of 6,193.
According to real estate industry experts, the December registration numbers are traditionally higher as customers flock the market to close their transactions to avoid paying higher stamp duty and registrations charges, which get revised every year in January with changes in Ready Reckoner rates announced by the state government.
It is a good sign that the numbers are looking up, says Paras Gundecha, president, Maharashtra Chambers of Housing Industry (MCHI). Customers who were holding on to their purchase decisions in hopes of price reduction are coming out to buy houses, which is leading to an increase in demand. Also, the recent reduction in interest rates is having a positive impact on residential sales, he said.
The year 2012 saw absorption levels in the residential market at almost equal to those in 2011. Compared with 2011, the absorption levels have dropped by just 3% to 42,200 units in 2012, according to a February 2013 report of Knight Frank India, a global real estate consultancy firm.
Also, property registration numbers for the calendar year 2012 remained flat with a total of 58,202 properties registered against 58,422 in 2011.
At the same time lack of liquidity in the system led to some steady pricing. According to India Ratings & Research, a Fitch Group company, residential demand showed signs of stability in 2012, with year-on-year growth in home loans from banks showing an uptrend from May 2012.
In the short term, demand is likely to remain subdued as the market continues to bottom out in the backdrop of a sluggish economy. Hence, we believe that a more pronounced rationalisation of prices is warranted in 2013, the Knight Frank report said.