Property sales registrations in October fell 8.5% from September, contrary to expectations of an improvement in uptake during the early days of the festive season. Consultants say home sales have fallen due to the lack of affordable housing (houses priced between R20 lakh and R50 lakh) in the city.
In September, registration figures had remained flat compared to August, as buyers delayed purchase decisions on hopes of offers and new project launches around the festive season. However, that did not happen. "Transactions in Mumbai and Delhi have slowed down and registration numbers are a reflection of that," says Om Ahuja, chief executive officer (residential services), Jones Lang LaSalle India, a real estate consultant. "While the transaction amounts have increased significantly, affordability is becoming a challenge in these cities."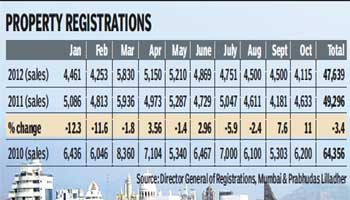 On a year-on-year basis, sales registrations saw a decline of 11% in October, data sourced from Director General of Registrations, Mumbai, show. Also, new launches have been below market expectations over the last two months. According to market estimates, less than 5 lakh square feet of supply has hit the road, with a handful of projects getting launched.
Some of the residential project launches include a project by Lodha Developers in Parel and Bombay Realty in Dadar. Omkar Realtors and Developers launched a project called Alta Monte in Malad (East) in the western suburban area.
"Pre-launch sales in projects have seen some movement now as people get about 20-25% benefit in prices at pre-launch stages of projects. Also, end-user interest in under-construction properties is there," says Poonam Mahtani, national director (residential services), Colliers International, a global real estate consultant. However, she says that pre-launch bookings will take time to reflect in registration numbers.
Meanwhile, developers hold the view that they should not be forced to build or sell cheap, as prices of property in Mumbai will correct itself if there is enough supply. "If I buy (land) cheap, I will sell cheap. Government should create enough land banks so that there is enough supply. Prices go up only because there is not enough available," says Vikas Oberoi, cmD, Oberoi Realty.
Explaining why even during festive times, which are considered auspicious for buying property, failed to garner interest among consumers, Paras Gundecha, president, Maharashtra Chambers of Housing Industry says, "Affordability is a challenge in today's market, but what would the developers do" he questions. "There is no sign of softening of land prices in Mumbai. Construction cost is only going up and approvals for projects take a long time, which adds some 40% to our cost."