There are many costs that add on to reach the final price of a property. Buyers must be aware, factor all of them in and not rush into a purchase decision. Most important, do not ignore the hidden interest cost that is very real
Buying a house is not the same as buying a car. When a car advertisement says Rs 5 lakh ex-showroom, the only additional costs to be factored are extra frills of ones choice, road tax and insurance. But if an advertisement for a house proclaims Rs 2 crore onwards, it is not as simple as the price with the registration and stamp duty charges and a fraction for miscellaneous expenses. The final price a buyer has to cough up is actually a lot more, in excess of 35-60 per cent of the declared price, as Vijay Shah, a prospective home owner from Mumbai realised.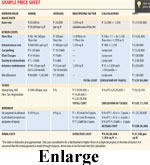 The rate was attractive so we went ahead and booked this project. When I came to know about the other charges, I decided to withdraw, says Shah who cancelled his booking in a recently launched high rise project by a leading developer in a western suburb.
This problem begins when developers expect high realisations in a sluggish market. Amenities can draw a buyer only to an extent, it is the price that is the primary factor. Developers, therefore, only declare the base rate, which lures buyers who are later caught unawares when the total cost is computed.
Express Estates compared the price sheets of various projects in the Mumbai region posing as a buyer, and information from websites of leading developers in the National Capital Region to arrive at an itemised build-up of the total cost that is illustrated with the example of the Shah family.
PRICES add up
BASE SALE PRICE: The base price declared by the developer to Shah was Rs 23,000 per sq ft. The area of their 2 BHK flat was 1,350 sq ft of super built-up area. Like any other buyer, Shah calculated the cost as 1,350 sq ft Rs 23,000 = Rs 3.10 crore plus stamp duty and registration charges as per the rules applicable. The rate looked competitive as compared to others in the vicinity and seemed much better with a fraction of the cost considered for amenities. The joy was short-lived, as it was time for the other expenses to add up.
OTHER COSTS: This includes charges for floor rise, car parking, clubhouse, infrastructure, society, maintenance, and taxes thereon.
Floor rise: Developers usually charge anywhere between Rs 60140 per floor rise. The Shahs wanted the 12th floor and considering an average floor rise as Rs 100 per floor, the cost for 11 floors up is 11 Rs 100 = Rs 1,100 per sq ft. Add this to base rate, which now becomes
Rs 24,100 per sq ft.
Infrastructure cost: This is a newer expense head created for keeping the base price low. This is usually a charge for common infrastructural facilities such as approach road etc. The onus is on the developer to construct it to make the project saleable. But he passes on the cost to buyers as facilities for their use. Infrastructure cost has come into existence as municipal corporations are charging development charges from the developer. However, it is insignificant considering the number of flats constructed in the same project. But some developers have now found a new avenue to make extra money, says N Mehta, a Mumbai-based property consultant.
Car parking: Legally, the developer cannot sell open or stilt space for parking. However, charges for closed or podium parking has no upper limit. The standard range in a high rise project in metros ranges anywhere from Rs 7 lakh to Rs 20 lakh, and in some cases even touches Rs 40 lakh. This is a compulsory expense.
Clubhouse: Another mandatory cost. Almost all big projects have club houses. The burden is further divided into two segments: clubhouse construction and club membership charges, usually a one-time payment for life.
Society and connection: This includes society formation charges, share money, legal charges etc which leads to around Rs 2 lakh on an average. This is a statutory charge. However, several developers are charging extra for electricity and water connections and provision for piped gas.
Maintenance: Developers are charging maintenance fee for one to two years in advance, even before possession. The estimated maintenance cost for a high rise project in a metro city would range from Rs 10-20 per sq ft per month, inclusive of all taxes and society charges levied on monthly basis.
Miscellaneous: There are developers who charge entrance fee, common amenity expense, deposit against possible damage during interior works, premium for the flat located in a particular direction, preference as per Vaastu etc. All this will also attract taxes. One can add about Rs 1 lakh for the same.
TAXES: The major taxes are stamp duty (5 per cent), registration cost (1 per cent), VAT (1 per cent), and service tax. Usually they account for 8-10 per cent of the basic cost.
INTEREST COSTS
The schedule of payment is usually tilted in favour of the developer. In most cases, hardly 5-10 per cent is left as balance, paid on possession. Almost 90-95 per cent of the cost is paid in two-three years while possession is scheduled not before five years. Since the buyer pays almost everything and gets no returns, he loses interest on this money. This should be added to the total cost.
On an average about 40 per cent of the total cost is paid during the first year after booking, 30 per cent in the second year, and 20 per cent in the third year. (See table). Consider the delivery time as five years and an average interest rate of 9 per cent. One must calculate the interest cost of the first tranche for five years, the next tranche for four years and the third tranche for three years. This is simple interest that adds to the cost.
BREAKING EVEN
As we saw, the flat that was quoted at Rs 3.10 crore turned out to be Rs 3.87 crore. After factoring the interest cost it ballooned to Rs 5.09 crore. This calculation has been done without considering a home loan, which if done, would bloat the cost further. One may argue that the buyer is not paying taxes to the developer, but one must also note that taxes and interest are paid while acquiring the flat. Will the buyer forego this cost while selling the flat asks Shah.
From an investment point of view, if the rate of the same flat is quoted as
Rs 28,000 per sq ft in future, one should not misunderstand that as appreciation or profit of Rs 5,000 per sq ft because he is incurring a loss of Rs 9,000 per sq ft due to interest cost. (Refer table). In fact even when his flat is quoted at Rs 40,000 per sq ft, the buyer would have reached just about break even point. The buyer must be aware and be ready to shell out much more than what meets the eye.