Companies like us, which have a very integrated offering of IT and BPO, IT and specialisation in offering deep domain solutions to customers, are going to get preferred.
Azim Premji Chairman, Wipro
Wipro is now banking on its recent organisational shuffle to rejuvenate its IT business, as the $6 billion IT major prepares to fight threat of being displaced from its No.3 position by a smaller but fast-growing Cognizant Technology Solutions. T K Kurien, who has recently taken over as the top boss of the companys IT services business, has promised to give Wipro a leaner and smarter look refurbishing the lost business momentum.
Keeping in mind the changing business environment, the IT bellwether initiated strategic growth plan and realigned its IT services organisational structure in hope to see positive impact in the coming quarters and significant improvements going forward.
Chairman Azim Premji last month surprised industry watchers by dismantling the dual CEO model for its IT business and appointed Kurien as the new CEO to reenergise the companys 30-year-old flagship business. As part of its streamlining process, Wipro announced six strategic business units (SBU). It also formed manufacturing and hi-tech as new SBUs to leverage the synergies between the two industries. The management is confident that the changes will fuel faster growth, drive higher agility and customer centricity apart from reducing organisation complexities.
Seeing continued strong demand in the outsourcing business, the company is optimistic of cashing in on the recent structural changes, where client delivery, sales and profitability are aligned more closely with the strategic business. Says Azim Premji, chairman of Wipro in his companys annual report, Companies like us which have a very integrated offering of IT and BPO, of IT and infrastructure, of consultancy, of specialisation in various strategic business units offering deep domain solutions to customers are going to get preferred.
The IT major has plans to focus on verticals like healthcare, manufacturing and hi-tech and pitching for more business in the emerging markets. Kurien, who has worked in different capacities within the company, has been instrumental in changing the face of Wipros BPO business. In the last nine months he has been heading the eco-energy initiatives in the company, which has registered growth.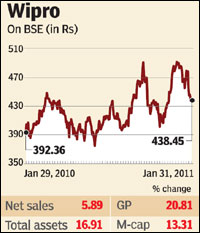 In the last few quarters, Wipros IT business has been underperforming, compared to its larger peers TCS and Infosys Technologies primarily because of a smaller exposure to the banking, financial services and insurance (BFSI) and healthcare verticals seen largely as growth drivers in a fragile global economic recovery.
Wipro reported a 12% increase in consolidated revenue for the quarter ended December 31, at Rs 7,829 crore. On a quarter-on-quarter basis, revenue was up 1.3% from Rs 7,730 crore in the second quarter. Going ahead the company is optimistic of the business environment.
Wipros management indicated that IT budgets for CY2011 would be up marginally, however the share of offshoring would increase. The pipeline for large deals is robust with more deals seen in the infrastructure technology outsourcing (ITO) and BPO categories, which are end-to-end transformational type of deals.