EMIs on auto, home and other loans are set to go up after RBI Governor
Raghuram Rajan
unexpectedly raised the repo rate by 0.25 per cent after a gap of almost two years to
keep inflation
under check, sending the stock markets into a tizzy.
Contrary to the expectations of the industry and experts, Raghuram Rajan in his maiden policy review opted for a hawkish monetary stance ahead of the festive season instead of shifting the focus to growth promotion by lowering interest rates to generate demand.
Read Full Report: Raghuram Rajan's mid-quarter monetary policy review
Read Full Statement: Raghuram Rajan's mid-quarter monetary policy review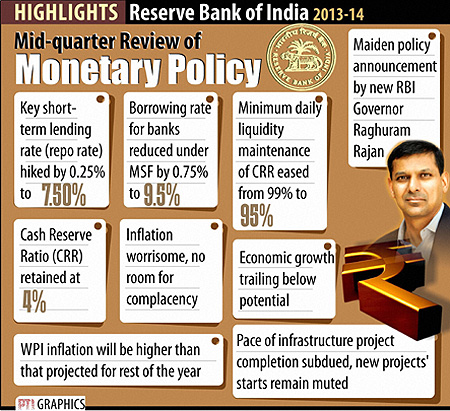 The repo rate, or the short-term lending rate, has been increased by 25 basis points to 7.5 per cent from 7.25 per cent with immediate effect. Other policy rates will be adjusted accordingly. The RBI previously raised the repo rate in October 2011 by 0.25 per cent to 8.5 per cent.
RBI Governor Raghuram Rajan, however, took steps to ease liquidity through a reduction in the marginal standing facility (MSF) rate, at which banks borrow from the central bank, by 0.75 per cent to 9.5 per cent and a lowering of the minimum daily maintenance of the cash reserve ratio (CRR).
After the policy was unveiled, State Bank of India Chairman Pratip Chaudhuri said lending and deposit rates will go up in view of the rise in festive season demand.
Raghuram Rajan, however, did not indicate that banks would raise lending rates, saying the cut in the MSF rate would balance the impact of the repo rate hike.
"I hope that they (banks) will look at their cost of funding...to make a decision and not look at the future and try and anticipate some hypothetical cost," he added.
Following the policy announcement, the benchmark BSE Sensex tanked by as much as 595 points, while the rupee depreciated 69 paise to 62.46 against the dollar.
*Stocks: Top Gainers/Top Losers
Raghuram Rajan said the elevated level of retail inflation is worrisome and leaves no room for complacency, while wholesale price inflation will be higher than initially anticipated.
Retail inflation was at 9.52 per cent last month. Wholesale price inflation rose to a six-month high of 6.1 per cent in August, driven by costlier food items.
"The need to anchor inflation and inflation expectations has to be set against the fragile state of the industrial sector and urban demand. Keeping all this in view, bringing down inflation to more tolerable levels warrants raising the repo rate by 25 basis points immediately," Rajan said in the policy statement.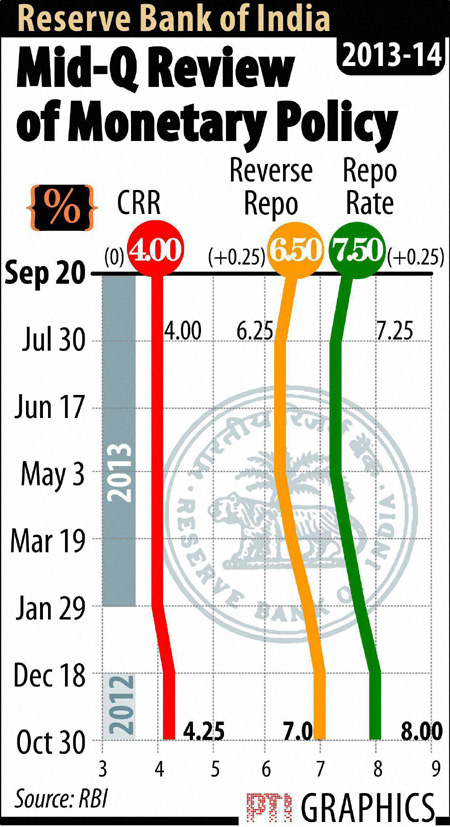 Raghuram Rajan said WPI inflation will be higher than initially projected over the rest of the year in the absence of an appropriate policy response.
"RBI always looked at both rates...We have to take everything into account because WPI does not contain, for example, a significant portion of services inflation. So you cannot just focus on one," he said.
RBI mid-quarter monetary policy review: HIGHLIGHTS
CII Director General Chandrajit Banerjee said the repo rate hike could have been avoided as the industry is already reeling under pressures of high cost of capital and low availability in a tight liquidity situation.
"The increase in repo rate comes as a surprise," Banerjee said.
Stating that economic growth has weakened with continuing sluggishness in industrial activity and services, the RBI said the pace of infrastructure project completion is subdued and the start of new projects remains muted.
Observing that growth is trailing below potential and the output gap is widening, Raghuram Rajan said, "Some pick-up is expected on account of the brightening prospects for agriculture due to kharif output and the upturn in exports."
Raghuram Rajan said concerns on the current account deficit have been mitigated with measures taken by the government and the RBI.
Raghuram Rajan said the timing and direction of further actions on exceptional measures will be contingent upon exchange market stability and can be two-way.
INSTANT VIEW: COMMENTARY
ANJALI VERMA, CHIEF ECONOMIST, PHILLIPCAPITAL, MUMBAI
"Hiking the repo rate was unexpected. The Governor Raghuram Rajan is clearly worried about inflation. He is saying the improved international conditions will take care of the current account deficit funding and his focus will shift to fiscal deficit and inflation, which were taking a backseat."
UPASNA BHARDWAJ, ECONOMIST, ING VYSYA BANK, MUMBAI
"While partial rollbacks of the exceptional measures were expected, RBI clearly has highlighted the need to anchor inflationary expectations by raising the repo rate. We expect inflationary concerns to continue to remain the dominant factor driving the trajectory for repo rate going ahead."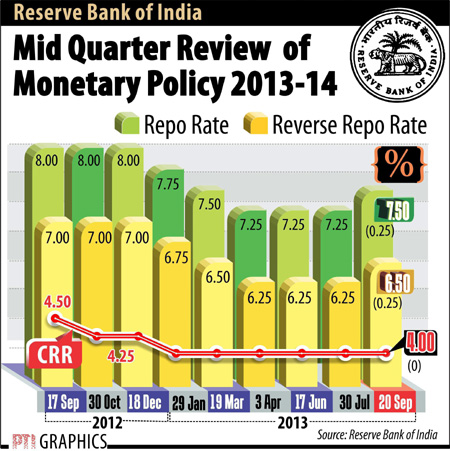 RUPA REGE NITSURE, CHIEF ECONOMIST, BANK OF BARODA, MUMBAI
"Raghuram Rajan's RBI has done excellent caliberation today to bring India on par with other emerging market economies which have already raised policy rates. It is a clear and transparent signal. Also by easing short-term rates and liquidity, it has reduced the stresses on the shorter-end of the yield curve. It should be noted that this easing is partial so as to avoid a possible speculative response."
SHAKTI SATAPATHY, FIXED INCOME STRATEGIST, AK CAPITAL, MUMBAI:
"Today's stance carries the legacy of managing the inflationary pressure to support a sustainable growth trajectory in the medium term. The rise in repo though was not anticipated, the near term objective to restore rupee stability and an expected early wind up in the exceptional measures to lower down the current operating rate makes the case an appropriate fit.
"Looking at the tone of the policy, the chances of a repo cut look less likely on October 2013 policy unless certain CAD managing measures don't take place in the interim with improved funding stability".
RADHIKA RAO, ECONOMIST, DBS, SINGAPORE
"This is possibly the part where the new RBI Governor Raghuram Rajan pre-empted that the course of action by the central bank was not to accumulate 'likes'. Stress on the need to anchor inflation and inflationary expectations signals that price stability is still the central bank's main policy objective, even at the cost of short-term hurt to the growth outlook.
"This also signals that the current rupee levels are still out of their comfort zone and liquidity conditions will be kept tight until the currency stabilizes further. To some extent, the delay in the US Fed tapering decision perhaps emboldened the central bank to pursue with the corrective action required, especially as the withdrawal of the excess global stimulus is inevitable."
ARVIND CHARI, FIXED INCOME FUND MANAGER, QUANTUM ASSET MANAGEMENT, MUMBAI
"Good move by Raghuram Rajan to hike the repo (rate) and making clear his intent towards maintaining price stability and restoring confidence on the exchange rate. It is commendable that he has done it in the background of a weak growth.
"The fact that QE tapering is inevitable, which gives no room for complacency and needs pro-active moves to counter its impact. We expect calibrated reduction in the spread/corridor as repo would be hiked further and MSF can be moved down as the INR settles."
SUJAN HAJRA, CHIEF ECONOMIST, ANAND RATHI SECURITIES, MUMBAI
"I think at this moment, any cut or hike in repo rate actually does not matter. Banks have liquidity shortage of in excess of 0.5 percent of NDTL (net demand and time liability). In fact, MSF rate which is the policy rate as of now, and that policy rate has been cut, that will bring down the wholesale funding rate by 75 basis points both for banks and corporates."
ABHEEK BARUA, CHIEF ECONOMIST, HDFC BANK, NEW DELHI
"The long-term signal is that Raghuram Rajan's RBI is still concerned with inflation.
"Easing short end of the curve, which it has done by cutting the MSF (marginal standing facility), reducing CRR requirements and etc. is a strong pro-growth signal. I think it (MSF) might be reduced even further."
ANEESH SRIVASTAVA, CHIEF INVESTMENT OFFICER, IDBI FEDERAL LIFE INSURANCE, MUMBAI
"The fear of tapering is yet not out and hence all the risk which we had before expectation of tapering is still alive. Indian inflation has gone up, but growth has subdued. My sense is that market at times gets buoyant for reasons which are not supported by economic reality, they would keep correcting. "What we were trying to gauge with this policy is where the new Governor Raghuram Rajan stands. And what's clear now is that his leanings are the same as the old governor -- very focused on inflation and currency."
R. SIVAKUMAR, HEAD OF FIXED INCOME, AXIS MUTUAL FUND, MUMBAI
"It is a very mixed policy, we have a rate cut and a rate hike in the same document. From a medium-term perspective, we see LAF rate becoming the operative rate that is clear, however the LAF rate itself will be higher than it cost before. While we do expect yields to settle down over a period of time, it will be at a higher level. Net net, the market is treating it as a rate hike rather than a rate cut.
"What's clear from a policy-making perspective is that the shift from WPI (wholesale price index) to CPI (consumer price index) will happen. And a very low core WPI inflation is not going to help bring rates down given that CPI is at 9.5 percent."
MARKET REACTION
* Indian rupee extended falls to 62.10/15 versus the dollar immediately after the RBI's rate decision from 61.93/61.99. It was trading at 62.38/40 at 0555 GMT.
* India's main stock index extended falls to 1.7 pct from 0.1 pct previously. It was trading down 2.3 percent at 0555 GMT.
* India's benchmark bond yield rose 18 bps to 8.36 pct after the RBI policy statement.
* India's 1-year OIS was up 16 bps at 8.95 pct post RBI policy, according to dealers
* India's 5-year OIS was up 9 bps at 8.20 percent
BACKGROUND
- Food inflation accelerated to a three-year high of 18.18 percent in August, government data released on Monday showed, driving the benchmark Wholesale Price Index up by a stronger-than-expected 6.1 percent.
- Industrial output rose 2.6 percent in July from a year earlier, its first expansion in three months, lifted by a robust rebound in capital goods production - often seen as a barometer for investments in Asia's third-largest economy.
- Some Indian companies could see the quality of their debt decline as higher global borrowing costs and a sharply weaker rupee take their toll, Moody's Investors Service said last week.
- Foreign banks are pushing to raise billions of dollars from expatriate Indians in response to New Delhi's drive to defend its weak currency, which could mean the government can avoid the need for a sovereign bond or state-backed deposit scheme to attract inflows.
- India increased the import duty on gold jewellery to 15 percent from 10 percent on Tuesday, in a move aimed more at protecting the domestic jewellery industry rather than stemming overseas purchases to narrow its current account deficit.
India's new RBI Governor Raghuram Rajan surprises with rate hike; trims rupee support steps
(Reuters) Reserve Bank of India Governor Raghuram Rajan surprised markets in his maiden policy review on Friday by raising interest rates to ward off rising inflation while scaling back some emergency measures put in place to support the rupee.
Rajan raised the RBI's policy repo rate by 25 basis points (bps) to 7.50 percent, defying widespread forecasts that he would leave the rate on hold to bolster a sluggish economy, and as expected struck a hawkish tone.
The RBI rolled back some of the steps that had been imposed to support a currency that had fallen as much as 20 percent to a record low in late August, reducing the marginal standing facility (MSF) rate by 75 bps to 9.50 percent.
The RBI had lifted the MSF rate to 10.25 percent in mid-July to tighten market liquidity and stabilise the rupee, and the MSF had been treated by the market as the effective policy rate.
Indian federal bonds, the rupee and stocks all extended losses after the decision.
"The need to anchor inflation and inflation expectations has to be set against the fragile state of the industrial sector and urban demand," Rajan said in his policy statement.
He also said he wanted the repo rate to resume its place as the operational policy rate as the rupee support measures are unwound.
Also on Friday, the RBI partially scaled back the minimum cash balance requirement banks must keep with the central bank on a daily basis.
MOUNTING PRICE PRESSURES
"The governor is clearly worried about inflation," said Anjali Verma, chief economist at PhillipCapital in Mumbai.
"He is saying the improved international conditions will take care of the current account deficit funding and his focus will shift to the fiscal deficit and inflation, which were taking a backseat," she said.
Headline inflation shot to a six-month high of 6.1 percent in August, hardening the case for Rajan to keep interest rates high.
India's record-high current account deficit made it especially vulnerable to the flight of funds from emerging markets that began in May on expectations the Fed would soon begin tapering its extraordinary stimulus.
Since Rajan took office, the rupee had recovered more than 9 percent through Thursday, getting a further boost this week after the U.S. Federal Reserve unexpectedly opted not to begin scaling back its stimulus programme.
Rajan said on Friday that domestic drivers of the rupee now take precedence.
"The focus has turned to internal determinants of the value of the rupee, primarily the fiscal deficit and domestic inflation," he said.