Jefferies downgrades
Mahindra & Mahindra Ltd
shares to Underperform and
Maruti Suzuki India
shares to Hold. Our preference for two-wheelers, Hero Motors shares in particular, stays.
The Indian PV (passenger vehicle) industry is witnessing an unprecedented churn. Earlier assumptions on the nature and structure of the market are being disproved and manufacturers are struggling to predict the next source of growth. This has a two-fold impact (i) the centre of gravity is shifting away from incumbents, and (ii) OEMs (original equipment manufacturer) will be forced to scale up investments in product development and entry into new segments. One is market share dilutive and the other, profitability dilutive.
Increasing model churn and segmentation: The Indian car consumer is no longer homogeneous and amenable to easy generalisations, in our view. After years of struggle, many global OEMs are finding some success with relevantly priced products (either India-specific or low-priced global models) and have been partly helped by the gradual increase in the size of vehicles sold in the domestic market.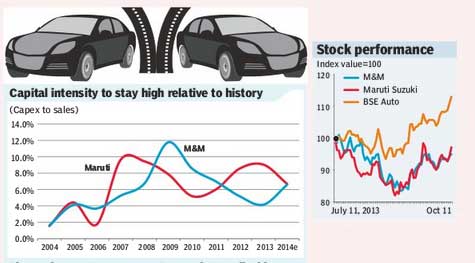 Until a few years ago, the relative share of various segments was largely unchanged. This lent stability in portfolio & product planning to incumbentsa critical contributor to profitability. However, every year in the recent past, a different segment of the market has dominated incremental demand.
Along with the fragmentation of segments, fragmentation of market share within each segment has also risen substantially. With more participation from new players, we believe the dispersion of market shares will only increase with time, albeit with temporary cyclical reversals. The segment most at risk is the UV (utility vehicle) segment, where suddenly all global OEMs seem to be focused.
Capex intensity to stay high: Hitherto, Indian car OEMs could do with limited new launches, frequent variant launches and still maintain a fair share of the market. However, that has changed and we expect incumbents to invest in diverse segments, rather than focus on their earlier core. The need for new models, the industrys penchant for over-investment in capacity and the inherently high capital intensity of the industry will result in high investments over the next few years. We see limited chances of strong free cash flow.
Export opportunity is a double-edged sword: Recent rupee depreciation has thrown open opportunity for OEMs to export out of India. However, exporting cars needs to be preceded by market development. This puts global OEMs in a better position than domestic OEMs. Nissan, Hyundai and Ford are already exporting a large portion of production, helping them achieve benefits of scale even before establishing strong domestic presence. Domestic OEMs will also benefit from higher exports, but the threat to domestic share due to the new global OEMs outweighs that benefit.
Demand will recover, sooner than later: We are building in strong recovery in demand in FY15e (estimates) and beyond. The market has been weak for three years and is unlikely to be slow for long. However, we are as yet unsure which segments will recover the most, though we suspect it will be the petrol, small car segment, off a very low base. On the other hand, there are many launches lined up in the entry level SUV segment and that could also trigger strong demand. Much of this is already in consensus estimates. What we worry about is the lack of recovery in profitability, fall in market share for some OEMs and weak cash flows.
Valuations not compelling: Auto stocks have held up fairly well due to strong balance sheet, clean managements and company-specific reasons. We dont think valuations factor in lack of cash flows.
Jefferies