After rising nearly 1,000 points in the last 10 sessions, the Sensex shed half of those gains in a single day on Tuesday. The 517.97-point fall the biggest single-day loss in 10 months came in the absence of big-ticket announcements in the Rail Budget, which prompted traders to book profit. Weakness in global equities further hurt sentiment, analysts said.
The Sensex ended at 25,582.11, down 1.98% from Mondays close, while the Nifty ended 163.95 points, or 2.11%, down at 7,623.20, as funds chose to take money off the table after a consistent rally since September. However, the fall in broader markets was even higher with the mid- and small-cap indices losing 3.5-4.2%
Losses accelerated in last two hours of trade after the new government presented its first Rail Budget, which, experts said, fell short of market expectations.
FIIs purchased a net of $71-million shares on Tuesday, showed provisional data from stock exchanges. Overseas funds have pumped about $10.6 billion into Indian equities so far this calendar year, the second highest among Asian and emerging markets fund flows tracked by Bloomberg.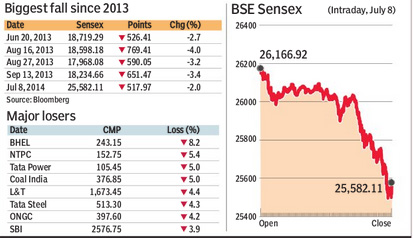 There is nothing wrong with the Rail Budget as such... My guess is that people had high expectations and this gives them an idea about the main Budget, which will be presented later this week. The market had run ahead of the fundamentals and some amount of profit-taking is visible, said Andrew Holland, CEO, Ambit Investment Advisory.
The market became a victim of its own unrealistic expectations. The Budget addresses some long-term plans and the intention is right. However, the government does not have the right amount of resources given the fact that it has been in power for 40-45 days, said U Bhat, MD, Dalton Capital Advisors.
The market witnessed broad-based selling and the breadth was weak, with 27 out of 30 Sensex companies ending in the red. Overall, 2,259 stocks ended negative against 751 that ended in the green. All 11 sectors on the BSE ended down.
Real estate (-7.16%), power (-6.37%) and capital goods (-4.8%) sectors were the biggest losers on Tuesday.