The advertisement, which appeared in all the major newspapers, has the phrase 'main nahin, hum (Not I, We)' emblazoned behind Rahul Gandhi.
AN advertisement released by the Congress on Friday starring Rahul Gandhi its lead campaigner for the 2014 Lok Sabha elections left the party flustered after the BJP accused it of copying its tagline from none other than Narendra Modi. The BJP said the tagline was coined and used by Modi in February 2011. Left red-faced, sources in the party said the particular advertisement is likely to be dropped.
The advertisement, which appeared in all the major English and vernacular newspapers, has the phrase main nahin, hum (Not I, We) emblazoned behind Rahul and takes veiled potshots at the BJPs prime ministerial face, saying no one has the magic wand to bring development. The BJP said the same tagline was used by Modi during his Chintan Shibir in 2011 in Mehsana.
The advertisement, sources in the Congress said, was created by Dentsu India and vetted by the partys publicity panel. It (the slogan) was coined by Modi to inspire government officials at the shibir, a BJP leader from Gujarat said.
Nakal ke liye akal chahiye (even for imitating one needs brains). The Congress hates Modi but loves his slogan. Rahul can steal a slogan but where will he get Modis experience and the capacity to perform senior BJP leader Shahnawaz Hussain said.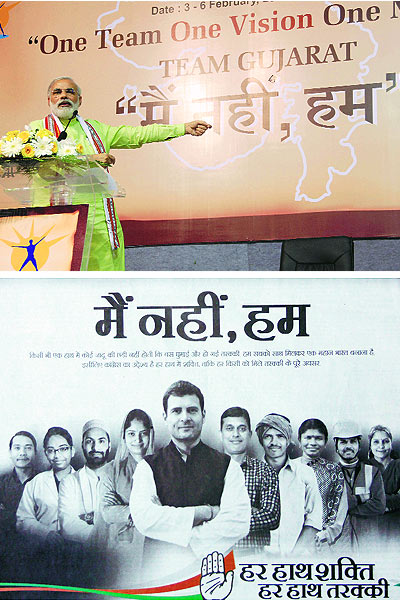 The photograph of Modi addressing the Shibir with main nahin, hum written in the backdrop along with Rahuls ad went viral on the social media.
The Congress, however, said no one has the copyright over the phrase and referring to the Aam Aadmi Party pointed out that its 2004 election campaign was Congress ka haat aam aadmi ke saat. Party spokesperson Shobha Oza said the Congress does not copy others. We set the agenda which others copy, she said. It is the BJP, especially its PM aspirant, who keeps on chanting I so much that he forgets he is a part of the BJP.
Just because someone said something at some point does not mean that it becomes their baby. We have used phrases like Congress ka haat aam aadmi ke saat. We cannot make it personal phrase or personal word. Such phrases are no ones property, she said.
The solo Rahul ad is among a series of advertisements being planned by the Congress to virtually position him against Modi. In the recent past, the Congress advertisements used to feature party chief Sonia Gandhi and PM Manmohan Singh.
Information and Broadcasting Minister Manish Tewari, who is a member of the Congresss publicity committee, said, The discourse over the past six months evidences that the BJPs prime ministerial aspirant has an ostensible proprietary right over the words I, me, myself while the partnership with the people that transformed the country over the past 10 years provides a legitimate claim to Congress & UPA over the word we.