Miss America 2014 Nina Davuluri poses on the beach during the traditional dipping of the toes in the Atlantic Ocean after being crowned Miss America, Monday, Sept. 16, 2013, in Atlantic City, N.J. Davuluri represented New York.
The crowning of the first Miss America of Indian origin sparked a racism row on Twitter today but 24-year-old Nina Davuluri played down the issue, saying she had to "rise above" such things.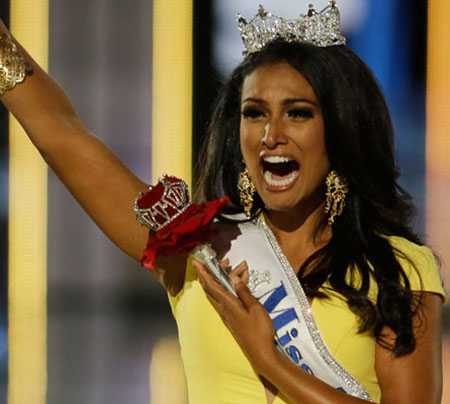 On Twitter, some users uncharitably referred to Nina Davuluri, the daughter of a gynaecologist who emigrated from India 30 years ago, as an Arab and a terrorist with ties to Al Qaeda. A user with the handle @emi_adkins tweeted, "It's called Miss America. Get outta here New York you look like a terrorist."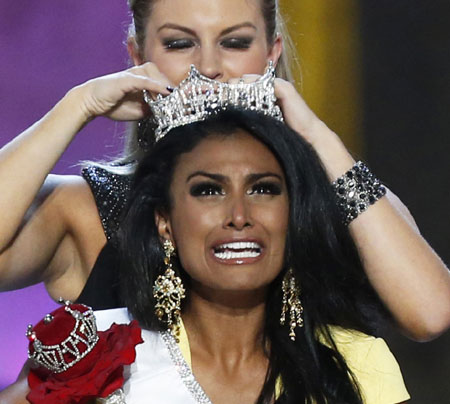 Some like Luke Brasili sought to link Nina Davuluri's win with the anniversary of the September 11 terror attacks in the US.
"9/11 was 4 days ago and she gets Miss America" he tweeted. "Congratulations Al-Qaeda. Our Miss America is one of you," posted @Blayne_MkltRain.
Nina Davuluri, who described her performance of a Bollywood-style dance at the Miss America pageant a victory for diversity in the US, appeared unfazed by racism. "I have to rise above that...I always viewed myself as first and foremost American," the New York native told a news conference last night after being crowned. "I'm thankful there are children watching at home who can finally relate to a new Miss America," she said.
Nina Davuluri, who says she would like to become a doctor like her father, is the first Miss America whose family comes from India.
Amid the racist tweets, there was support for Nina Davuluri.
The Jezebel feminist blog denounced the comments against the beauty queen and and said "racists are being racist because Miss America isn't white."
Twitter user @CJlovebug posted: "This world is so
ignorant. #MissAmerica Indian or not had every right to gain the title of MissAmerica. This is why I want to leave
America!" "Stop hating, America. She's one of us..." tweeted Emma Sydney, while @ericatessa wrote: "I think it's fabulous that @NinaDavuluri won #MissAmerica! America is about diversity. Not intolerance."