The FSLRC, headed by BN Krishna, submitted its report to the government in March 2013.
Reserve Bank of India (RBI) governor Raghuram Rajan on Tuesday argued that shifting the regulation of bond trading would severely hamper the development of the government bond market, including the process of making bonds more liquid across the spectrum. Rajan was referring to a suggestion made by the Financial Sector Legislative Reforms Committee (FSLRC) that all regulation of trading be merged under a new Unified Financial Agency.
The FSLRC, headed by BN Krishna, submitted its report to the government in March 2013.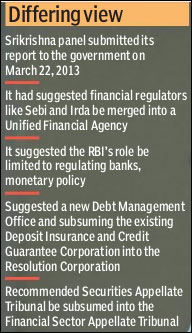 The governor, however, said the RBI was wiling to give up some powers, adding that if the government wanted to manage its own debt, there was no reason for the central bank to hinder that. I dont believe the government suffers any less from conflicts of interest in debt management but the RBI could well carry out the governments instructions without any loss in welfare, he said. Rajan was delivering the keynote address at the State Bank of Indias Banking and Economics Conclave.
He argued strongly against checks and balances on regulators through judicial oversight, as recommended by the FSLRC, saying it would completely vitiate the flexibility afforded by rewriting laws.
The committees rationale for the oversight is to enable the system to deal with market failure. However, the governor felt it was important to strike a proper balance which might vary with the level of development.
He cautioned that the FSLRCs suggestion to create a Financial Sector Appellate Tribunal posed several dangers. Asking tribunals to make judgments that they simply do not have the capability, experience or information to make, and where precise evidence may be lacking, the governor felt , might not be the right way to go about it. He said there were checks and balances in place, including review by constitutional courts like high courts through writ petitions.
Rajan also said that the recommendation relating to the appropriate size and scope of regulators had not been thought through. There is no discussion of the empirical magnitude of the synergies gained or synergies lost, which makes the recommendations seem faddish and impressionistic rather than based on deep analysis, the governor observed.
He also disapproved of the committees proposal that all regulation of trading should move under one roof while all regulation relating to consumer protection should be under another roof, leaving the regulation of credit balkanised. This balkanisation, he felt, would hamper regulatory uniformity, the supervision of credit growth, and the conduct of monetary policy.