In order to attract longer term and more stable inflows into deposits, some public sector banks have hiked the interest rates on their foreign currency non-resident (FCNR) deposits having tenures above two years.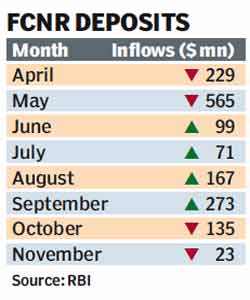 Federal Bank and Dena Bank hiked interest rates on FCNR deposits on tenures of two years and beyond by as much as 17 basis points.
After the hike, Federal Bank's dollar deposits of 2-3 years will pay 2.43% while those of 3-4 years will pay 3.56%, 6 bps higher than earlier. Depositors putting for five-year will get an interest of 4% per annum, 17 bps higher than before.
Dena Bank has also increased interest rates in a similar fashion and will pay 4% on five-year deposits, 17 bps higher than before.
Both the banks have cut interest rates on FCNR deposits of 1-2 year tenure.
Earlier this month, Central Bank of India and Punjab National Bank had also hiked rates on their FCNR deposits.
FCNR deposits are those wherein non-residents hold funds in foreign currency instead of rupees. The bank pays the interest also in the specific foreign currency.
FCNR deposits form a small part of the total inflows in non-resident deposits of banks under various schemes.Inflows into FCNR deposits had dwindled in the last two months and in January there were outflows worth $23 million. During April-November 2012, FCNR deposits saw an outflow of $113 million compared with an outflow of $23 million in the corresponding period last year, data from Reserve Bank of India show.
Unlike other deposit schemes for NRIs such as the non-resident rupee accounts, the customer does not have any exchange rate risk on FCNR deposits as the funds are not converted into rupees. In NRE deposits, the exchange rate risk is borne by the customer as and when the funds are converted from the foreign currency into rupees.