About 13% of India?s crude oil imports in FY14 were from Iraq. (Reuters)
Although the Iraq crisis hasnt so far caused any disruption in the countrys crude oil supplies to India, New Delhi is watching the developments in the strife-torn country, given its potential to push up global crude prices, reports fe Bureau in New Delhi. About 13% of Indias crude oil imports in FY14 were from Iraq, the most after Saudi Arabia, which accounted for a fifth of the countrys oil imports of 190 million tonnes in the year. Indias reliance on Iraq for oil rose since FY12 following US sanctions on neighbour Iran.
The Indian crude oil basket that averaged at $106.94 a barrel during April-May has now touched $110.31 per barrel. The rally has been in evidence since the second week of June, after an escalation of fighting between militants belonging to the Sunni minority and security forces in Iraq.
Analysts said oil prices would move dramatically if militants now engaged in fighting Iraq's security forces mostly in northern regions make inroads into southern Iraq, which makes up for roughly three-quarters of the country's crude output. The countrys exports of 2.58 million barrels a day in May were all from the southern region.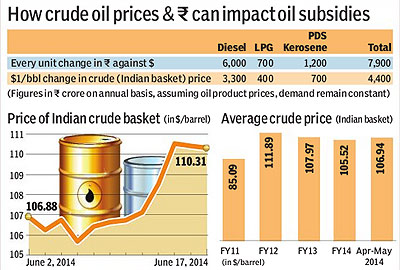 Generally, Indian refiners have stock of crude oil ranging from 15 days to nearly a month. Any shortfall in supplies from Iraq could be substituted from other suppliers such as Saudi Arabia and Kuwait, but if disruptions continue for a longer time, Indian refiners could be hit.
A rise in the price of crude oil directly affects India's fuel subsidy and could potentially strain government finances. The losses on diesel have now come down to Rs 1.62 per litre (thanks to gradual price increases of 50 paise a month over several months) and the government is targeting to make the fuel's price totally market-determined. Every dollar increase in international crude oil price, for instance, could raise the price of diesel by roughly 40 paise a litre.