The auto industry is not only slated to post its slowest growth in five years this fiscal but is also fighting one of the highest inventory levels in recent times across segments like commercial vehicles, two-wheelers and cars, which may lead to more production cuts ahead.
The commercial vehicles industry, where Tata Motors and Ashok Leyland account for about 80% of volumes, faces the biggest challenge with inventories more than doubling in the last one and a half years, say analysts and dealers. Carmakers are close behind with similar stock levels as petrol car sales are yet to pick up and even sales of diesel cars are slowing due to rising fuel prices. For two-wheeler makers, the fiscal has been volatile and inventories are already up to the brim, paving the way for discounting, a rare move in the segment.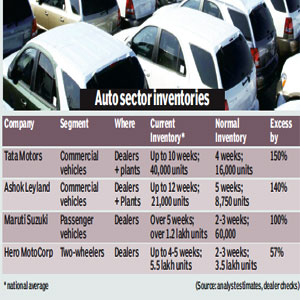 In fact, Tata Motors, the market leader in the commercial vehicles segment, has been adjusting the production of its medium and heavy commercial vehicles (M&HCV) to align it with demand by resorting to production cuts at its plants in Jamshedpur and Pune.
In an analyst conference call following the October-December earnings earlier this month, Tata Motors said that decline in market share in M&HCVs was partly due to lower dispatches of vehicles in the market due to inventory adjustments. The companys managing director Karl Slym said, Overall M&HCV has been down by 38% during the quarter, showing how the economy is performing.
Even if incentives towards M&HCV segment are announced in the forthcoming Budget, the revival would not happen quickly. It would take around half a year for some activity in terms of volume recovery in the M&HCV segment to happen, said Slym.
Ravindra Pisharody, executive director, commercial vehicles business unit, Tata Motors, added, Lack of investment in the last nine months has impacted the growth in the M&HCV segment. Mining states have completely wiped out. One would have expected the second half of the year to be better than first half. However, we have seen industry fall since October, with nothing changing dramatically.
In a similar move to trim production, Ashok Leyland has reduced working days at its bus and truck plants at Ennore, Pantnagar and Alwar to five days a week (two production shifts a day) from six earlier. Discounts are running quite high in the market to attract customers in a competitive and sluggish market. We are matching production to demand now to keep inventories in check, Rajive Saharia, executive director (marketing) said.
In a recent media call, Siddhartha Lal, MD and CEO of India's fourth-largest commercial vehicles maker, Eicher Motors, also said that discounts are rampant in the market, though the company is undertaking internal cost-cutting measures to protect margins.
A recent Nomura Equity research report stated, The growth outlook in the domestic M&HCV industry has deteriorated further over the last two to three months. Industry volumes have declined by around 35-40% in the last three months.
The report added, Recovery in M&HCV industry is unlikely to happen in the financial year 2013-14 and continue to expect only 5% volume growth. The note said the firm expects Tata Motors to register a 30% decline in M&HCV volumes during the current financial year compared with a 15% decline it expected earlier.
The two-wheeler segment, which usually is not adversely affected, is facing headwinds too.
Said a major North Indian dealer for two-wheeler market leader Hero MotoCorp, Stocks are running very high, and though there have been no discounts till now, I think it can happen any time now. Whether it will help push sales, one doesn't know. Production cuts are the only way because we have no more space. Our inventory costs have doubled over last year. Industry sources indicated that stocks are similarly high at both Honda and Bajaj Auto dealerships as well.
Earlier this month the Society of Indian Automobile Manufacturers (Siam) said that car sales will fall for the first time in 10 years this fiscal, after recording a 1.8% drop to 15.56 lakh units between April and December. Petrol car sales have been under pressure for most of the year, prompting industry majors such as Maruti Suzuki to cut production, but now the demand for diesel cars and utility vehicles have also started coming down as diesel prices have been increasing, said Vishnu Mathur, Siam director general.
Meanwhile, M&HCV volumes in the same period are also down 21.37% at 2.17 lakh units. Bike sales, which account for 73% of two-wheeler volumes, have also shown flat growth this year.
Apart from expectations of a further interest rate cut, the auto industry has pinned its hopes on the Budget this month for an economic revival that will create demand for both personal and commercial transportation and improve prospects for the industry. Siam has asked for several measures, such as retirement of old vehicles, lower excise rates and implementation of a new urban renewal scheme to create demand for buses.