Whether it was her turn as the gutsy model Meghna in Madhur Bhandarkars
Fashion
, the murderous Suzanna in
Saat Khoon Maaf
or the adorable Jhilmil in
Barfi!
, the film industry, over the last few years, has grown accustomed to hearing news of Priyanka Chopra for unusual acts. And this season is no different. After a whirlwind trip to the United States for the premiere of Disney film
Planes
which she lent her voice to (for the Hollywood version and not a dubbed version as has been the norm), to launching the video of her latest single with a music video for her second song
Exotic
(a follow-up to
In My City
) with Pitbull to boot. Chopra, after earning her stripes back home has been exploring newer pastures. Incidentally,
Exotic
will be played through the 2013 Guinness International Champions Cup as the official theme song.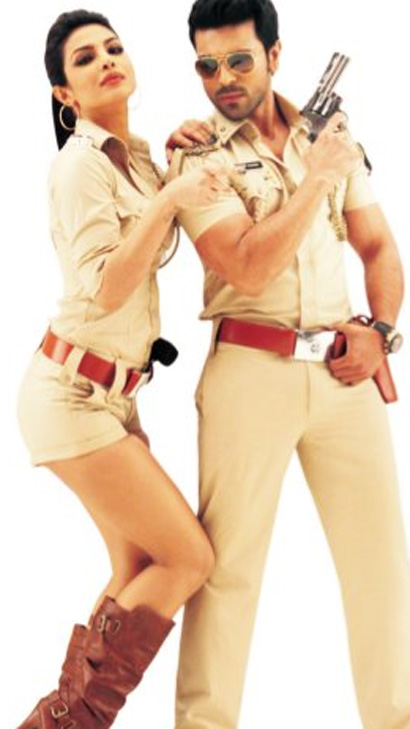 Besides, last year she added two feathers to the proverbial hat with Agneepath, the first blockbuster of 2012 and Barfi! (she played an autistic which even fetched her several accolades, the film was an unexpected entre to the multi-crore club). This year too looks promising with the much talked about Zanjeer, a remake of the Amitabh Bachchan classic helmed by Apoorva Lakhia coming up besides Krrish 3. Besides, there is Gunday, an item song in Sanjay Leela Bhansalis Ram Leela and a biopic on boxing champion Mary Kom.
And though Chopra punctuates every sentence with fun and great making the process seem rather easy, her enviable repertoire has not come on a platter but on the back of her unflinching focus. Why, just recently her resolve was put to test right through her father Dr Ashok Chopras critical illness, when in addition to attending to him, the actor kept working round the clock. He eventually succumbed to cancer but living by the diktat that he held dear, Chopra immersed herself in work.
It is only when a mention of him comes up that the otherwise unflappable actress loses composure. But only momentarily. Her eyes brim over with tears, but daddys brave little girl blinks them away and is back next minute to her sunshine, confident self, chatting away freely. At the swanky Marriott hotel in Juhu, Bollywoods Mecca and meeting point, she is getting ready for interviews and a press conference that is to follow later. The hotel is swarming with media-persons who have set up their equipment and are waiting patiently for her.
Keeping her part of the bargain, she is all dressed for the occasion, looking every inch the pop diva glamorous, armed with endless charm and a clever quip for every query. That Zanjeers media promotions are being kick-started with her speaks volumes of her growing star power. Cast opposite Telugu superstar Ram Charan, Chopras heft is equally important to the film, given that her leading man is testing Bollywood waters with this film. Chopra was the first choice for the film and despite her steep remuneration given both her position and talent the amount was never negotiated; a common practice when it comes to actresses. In fact Charan, was so keen to have her on board that according to director Apoorva Lakhia, he asked them to just pay her the price, from his salary if need be.
Fortunately for her, she started off on a wonderful note with her famous co-star. Says Chopra, Ram Charan is such a huge star in Hyderabad, you would have no idea of how big a star he is! There is such hysteria around him. But hes a wonderful co-star. He dances like a dream, is great with action and helped me with Telugu! All through the shoot, Upasana (Ram Charans wife) and Ram took such great care of me.
Charan quite shares her sentiments. In an earlier interview he admitted that being an action hero, he found the romantic scenes tricky and it was Chopra who came to his rescue. But in the film it is she who needs to be rescued. Says Chopra of being part of yet another iconic Bachchan remake, Im so excited. Its an all-boys action movie. And Mala is this girl who comes from New York for a wedding and sees a murder take place! Shes the girl who gets stuck in this world that till then she is not aware of at all.
The actor says that in her own way, she has paid a small tribute to Jaya Bachchan (who reprised the role in her inimitable style) in the way shes played Mala. Nobody except me will know or notice that but yeah, its my tribute to Jayaji, avers Chopra, adding, You know there are some films where you do action and some films, where you are the damsel-in-distress. In this film I am the latter a girly girl. And though its not a comedic part, I think I am the comic relief in this film.
Meanwhile her song Pinky in the film is being touted as yet another item song, a tad more risqu than her earlier item number Bubbly Badmash in Shootout At Wadala which was deemed way too mild as compared to Sunny Leones Laila in the same film. Chopra dismisses such talks explaining that Pinky ispart of the films story a song that takes place in the wedding sangeet that her character Mala is attending. Of the common practice of leading ladies lending their presence to item songs in films, she says, There used to be songs in a film for the heroine; practically every song had a dance accompanying it. Thats not there anymore, so I think an item song is a way of compensating for having a dance-song for the heroine.
And in the midst of song, drama and action, she had to contend with playing a double role of sorts what with being the leading lady in both Hindi and Telugu version (of Zanjeer), the only one from the Hindi cast besides Charan to be a part of both. Speaking of the experience, she says, It was fun actually, like doing two films simultaneously. I had to memorise my lines in both Hindi and Telugu.
Ask her if delivering long-winded dialogues in a language that she does not understand was a problem and she says, Somehow remembering lines has never been a problem. In some sort of a photographic way I can visually see the line and dialogue on the page and remember it.
No wonder that doing the voiceover for Planes as Ishani, even if it was a Hollywood film was a cakewalk for her, leaving the director of the film, Klay Hall rather impressed. Klay was unaware about dubbing being commonplace in Bollywood. So I just went along with it and let him think I was a natural! she says, breaking into a mischievous chuckle.
Describing the experience as nice and adorable, she avers, I loved the movie because Ishani is a full character. She is Dustins crush in the movie. She is one of the boys, she is confident and I thought she was a lot like me. When we saw the film, Ishani had my expressions too and it was fascinating to watch. I am grateful for that experience.
Her America visit to attend the films premiere in California was choc-a-bloc with meetings that her managers had set up and a whole whirlwind of activities. When I ask her whether with an international pop album, she is likely to spend more time in USA to devote time to Hollywood She says, A lot of people ask me if I am going to go there. And I know its easier to stick to the safe zone but Im an actor. I will be going wherever my works takes me, that does not mean I am not doing Hindi films.
Meanwhile back home in Bollywood, work for Chopra is certainly in the big league, not just in terms of the banners and co-stars she is paired opposite but even the roles she is being offered. Among the ones she is most excited about is a period film with Yashraj Films titled Gunday. And then there is Mary Kom biopic with Sanjay Leela Bhansali too, which is being counted as the movie-to-watch-out-for.
Chopra even went across to Imphal to spend time with the young boxer and her family to get an understanding of the character she will be essaying. Biopics are usually about people who are no longer around or in a phase when they are past their prime, but Mary is very much an iconic sportsperson in her prime today. So its rather challenging, says the actor who gave her nod to debutant director Omung Kumar (also a set designer) as he had a fabulous script and an elaborate presentation.
Another film that she is excited about is producer/director Rakesh Roshans Krrish 3. I like being a part of big ensembles. Actually I enjoy all kind of films. I like to push the envelope with every film. I like being on the set. I dont know anything else, she offers by way of explanation.
According to her, this is Rakesh sirs best so far. Quickly adding, In Krrish I have a really interesting part in the film. Its got such amazing reviews. Its going to be a very exciting film.
It is interesting that having been a favourite with directors for a while of late, she seems to have gathered quite a following among contemporary actresses like Deepika Padukone, Kareena Kapoor and Katrina Kaif among others, no mean feat in Bollywood. In fact, most of her contemporaries were present in her hour of grief when her father passed away. Of the newfound dostana her take is rather simple, I get along well with people. I have wonderful co-actors, including girls like Deepika, Kareena and Katrina. I really admire Deepika who is a colleague and has done some interesting work. I think there is space for everyone really.
And then shes got her own brood as well cousin Parineeti Chopra is going places in fact her film Shudh Desi Romance releases the same day as Zanjeer. The good and surprising part is that they share a great camaraderie. And there are two more cousins coming out with films. Chopra on her part is quite delighted at these developments. I am making my own clan, she quips with a laugh, explaining that her family has always been a close knit one with frequent visits from cousins. However between cousins, while she is close to Parineeti, she doesnt know Meera too much. On Raksha Bandhan, my brothers wrists are crowded because we are so many sisters in the family, she says before goodbyes are said.
Its time for Chopra to step out and face the flashbulbs. Yet another day in the life of a star, but few play it with such aplomb.
priyanka.sinha@expressindia.com