The railway ministry is exploring the possibilities of awarding the work of guarding unmanned level crossings to private firms. This is one of the options that the ministry is considering to ensure that all 17,000 unmanned crossings are manned in the next five years.
This will open one more segment in the railways to private sector. The railways has already drafted policies regarding public private participation in laying of new railway lines, port connectivity, operating freight terminals, running of special freight trains and setting up auto hubs.
The aim is to reduce the number of accidents at railway crossings and fix the responsibility of ensuring that on private sector firms. On an average, nearly 70% of accident deaths recorded by the railways take place at unmanned railway crossings. In terms of accidents also, the number is far higher for unmanned crossings than the manned crossings. In five years to April 2009, 370 accidents took place at railway crossings and 329 of these were at unmanned crossings.
There are 17,000 unmanned level crossings in the railways and the ministry wants to guard all of them by March 2015. The plan is to guard 1,000 such crossings this year alone. This is an ambitious target considering the track record of railways. In the last 10 years, railways could man only 3,000 level crossings. The ministry had created plans for manning nearly 3,000 level crossings in 2009-10 but the same could not be implemented.
We are seriously looking at the option of engaging private sector companies in the operation of railway crossings. The aim is to guard all the unmanned crossings within the span of next five years through the use of technology and private firms, a senior railway official told FE seeking anonymity.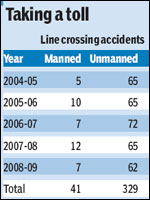 Accidents at unmanned level crossings are a source of deep concern to all of us. Even now, there are about 17,000 unmanned level crossings A special drive in this regard is being launched so that in the coming five years, all unmanned level crossings are manned, railway minister Mamta Banerjee said in Parliament while presen-ting the railway budget for 2010-11 in February.